Hello again! My name is Jessica Hamel. I found my passion for group fitness with a focus on pregnant and postpartum women in 2013. Prior to educating and coaching mothers, I was an elementary teacher. I hold a Bachelor's degree in Elementary Education and a Master's Degree in Leadership and Administration.
I was certified in 2018 as a Pregnant and Postpartum Athleticism Coach and a Birth to Back Movement Professional in 2021. I am always learning and growing to be the best coach for mamas.
I am a mother of three S.L.A.M. kids who all had their place in the stroller. Now 10, 7 and 5, they still love to S.L.A.M. and help with the little ones.
In 2012, I became a member of S.L.A.M. Sweat Like a Mother Savannah and fell in love with the community. I opened S.L.A.M. El Paso in 2017 and have coached hundreds of amazing mothers within this community. In 2020, my family moved to Kansas where I was manager of  S.L.A.M. Leavenworth for two years.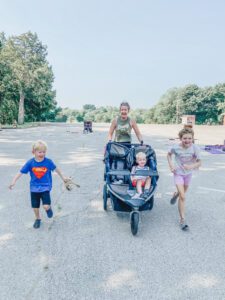 Now, in 2022, and no more army moves 🎉 , my family is growing our roots deep in our hometown of Yardley, Pennsylvania. Fourth and final stop, …. S.L.A.M. Bucks County!
I cannot wait to continue the mission in Bucks County. My goal is to coach mamas and create a supportive community of women to do mom life together and Sweat Like a Mother. For the latest on our opening check us out on Facebook and Instagram!