Mission: To "sweat like a mother."
We believe in bringing women together, not only as moms, but as athletes. To provide women a space to come as they are and realize how strong and powerful they are.
We believe in showing our children what it means to lift each other up. 
What Makes Us S.L.A.M. Sweat Like A Mother?
We understand that it takes a village to raise a child, but we also believe that village can be uplifting and motivating to the mom, too. At S.L.A.M., we are all about creating a community of women that come together with the mindset to make themselves stronger, motivate each other, and show their children what it means to Sweat Like A Mother. Our fitness community is one of a kind, and the S.L.A.M. community stretches from our own backyards to thousands of miles across the world, with multiple locations throughout the United States and Europe.
S.L.A.M. is more than just fitness, and each affiliate is unique. Our locations include various outings and events, such as:
Distance races and obstacle course races
Playgroups for our children
Mom's Night Out events once a month
Extra credit challenges on a regularly occurring basis
At S.L.A.M., each of our classes is designed to get you moving, get you sweaty, and make sure that you are having fun while working out. Our classes are all 60 minutes long and offer a variety of movements and sequences that accommodate all levels of fitness.
Our programs involve an instructor-led warmup with a running or walking route, multiple stations throughout the park or specific meetup location, and a cooldown with stretching to close it out. Each movement is broken down by our instructors, and modifications can be made to accommodate each individual in the class, including mamas who are pregnant, newly postpartum, and members with injuries or restrictions. Every fitness level is welcome at S.L.A.M.!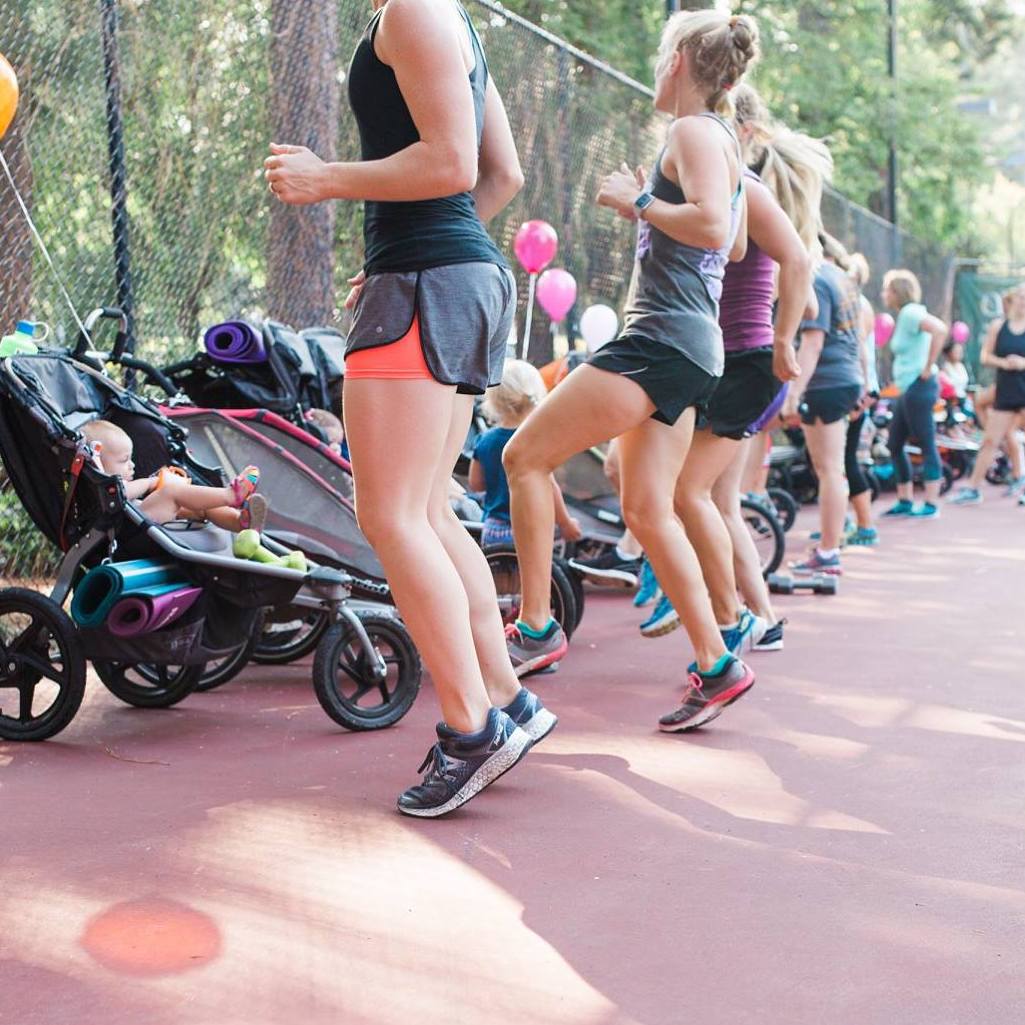 Start Working Out with S.L.A.M. Sweat Like A Mother Today!
If you are ready to start working out, or if you are interested in challenging yourself to a new fitness routine, do not hesitate to contact S.L.A.M. and find your local affiliate group. Your first class is always complimentary!
Outdoors
Classes take place outdoors, using entire park spaces (weather permitting)
Variety
Every class is different from the next to prevent boredom and maximize full body fitness.
Multi-level
Exercises are introduced at multiple difficulty levels so moms of all fitness levels can workout together.
Fun!
All in the company of your S.L.A.M. kids, classes are designed so everyone has fun!
Each class is 60 minutes long and includes: 5-10 minute warm-up, running (or walking) routes with strength and conditioning stations throughout the park, and a stretching/cool down close.
Jam-packed with a variety of multi-level exercises, this program meets you where you are in your pregnancy or postpartum journey.
Running (or walking)

30%

30%

Balance exercises

45%

45%

Core strengthening

60%

60%

Metabolic Conditioning

80%

80%

Variety

100%

100%

Weights, mats, & the environment

100%

100%

Fun entertainment & inspiration for your child

100%

100%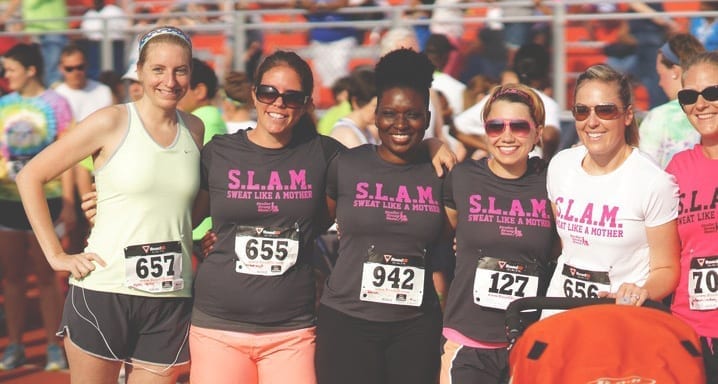 S.L.A.M. is more than a butt-kicking workout: It's a community. Every month at each location, you'll find us spending time together outside of class! We host playdates after class and a night out just for us, and we race together either as teams or individuals–but almost always in some smokin' hot S.L.A.M. attire. As they say, those who S.L.A.M. together, stay together.
Find extra event info and details under each location's webpage and Facebook page.
All I gotta say is, man, we need this at every Army post! It's fun, motivating, realistic, inexpensive, and practical. Thanks for helping get my behind in gear – with baby in tow! Can't beat the friendships either!!
I love, love, LOVE S.L.A.M.! From the very first day, I had NO idea it would impact my life the way it has. Going to class until about a week before I had baby #2 most definitely helped me achieve my goal of having a natural birth the second time around and helped me recover pretty quickly afterwards. I also ran my first 5k and am now addicted. Looking forward to MORE awesome butt-kicking workouts, watching all the babies play and grow, and making new friends all at the same time!
YOUR FIRST CLASS IS COMPLIMENTARY
What have you got to lose?