Southern Pines
All American S.L.A.M.
Aberdeen Lake Park
First Baptist Church
Village of Pinehurst-Cannon Park
Village of Pinehurst-Arboretum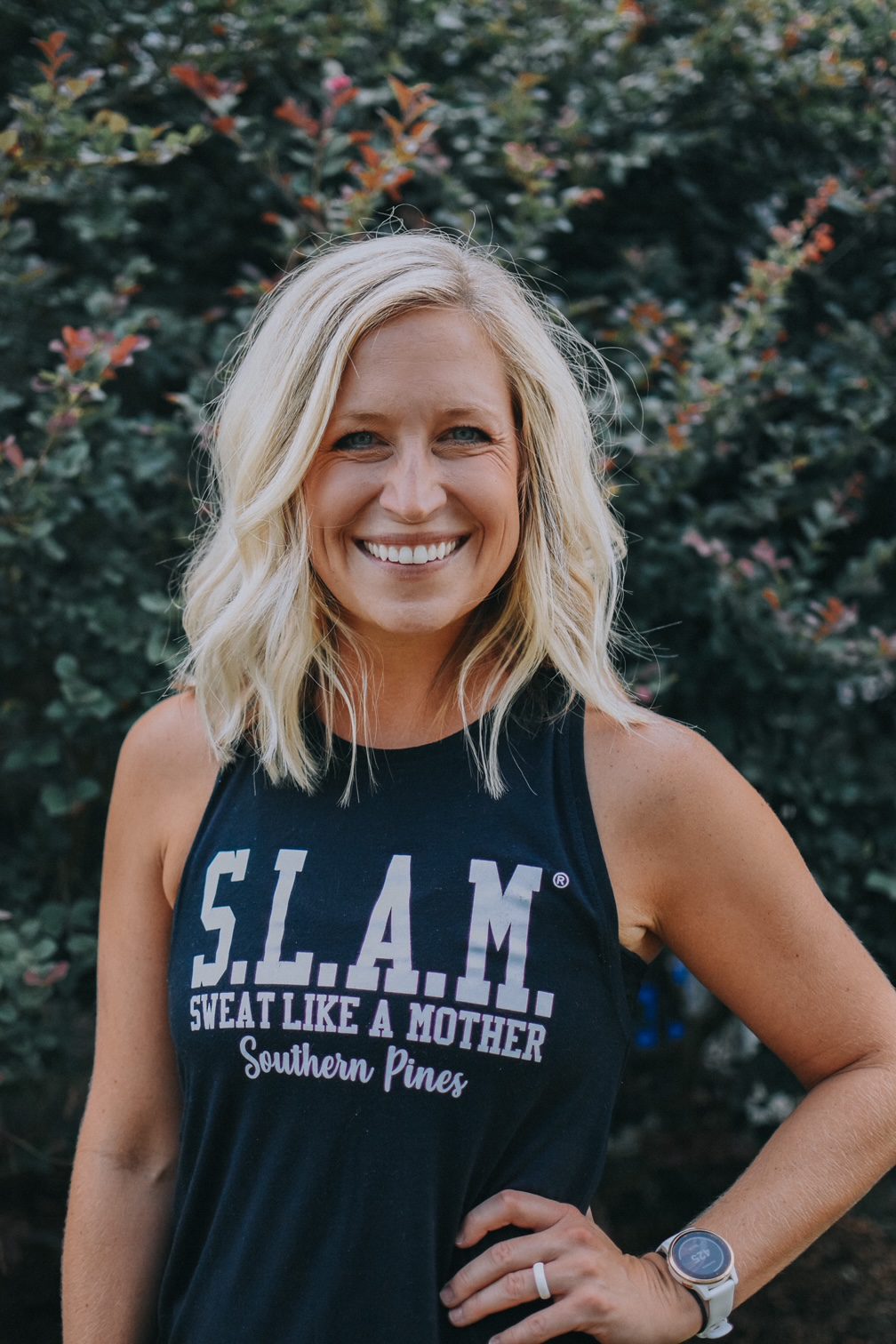 Kathryn Fanning | kathryn@sweatlikeamother.com
Kathryn is a certified Pregnancy and Postpartum Athleticism Coach, an ACE certified Group Fitness Instructor, and a Fitness Nutrition Specialist. She is also CPR/AED certified through AHA. Kathryn likes making fitness work into everyone's daily lives and loves to make working out fun. She loves running, hot yoga and tabata workouts, and seeing babies imitate their mamas being strong is one of her favorite parts about SLAM.
Kathryn is originally from Columbia, SC but thanks to being a military spouse, she has made Southern Pines home since 2016. She has a B.A. and a M.Ed. in Education and taught middle school math before staying at home with her babies, Parker and Garrett. Kathryn found SLAM in early 2019, and loved it so much that she became an instructor that summer. She was thrilled to take ownership of SLAM Southern Pines in the summer of 2020. She loves learning and is always taking new courses to help grow her knowledge of fitness and support her SLAM mamas.
"SLAM is the most unique and powerful community that I have ever been a part of. These women genuinely love, support and care for each other. Seeing the mamas and littles cheer each other on at SLAM and in life might be the best feeling ever. It has been an absolute blessing to be able to continue to grow this incredible tribe here in Southern Pines. SLAM is like no other…come see what we are all about!"
SLAM Free Trial
 Perfect for those attending their first class who want to learn more about SLAM

Expires after 1 use
10 Class Pass
Gives you 10 chances to S.L.A.M.!

Expires 5 months after purchase
Monthly Unlimited
Perfect for attending class often

Cancel at any time with 2 weeks notice; pregnant moms may place a hold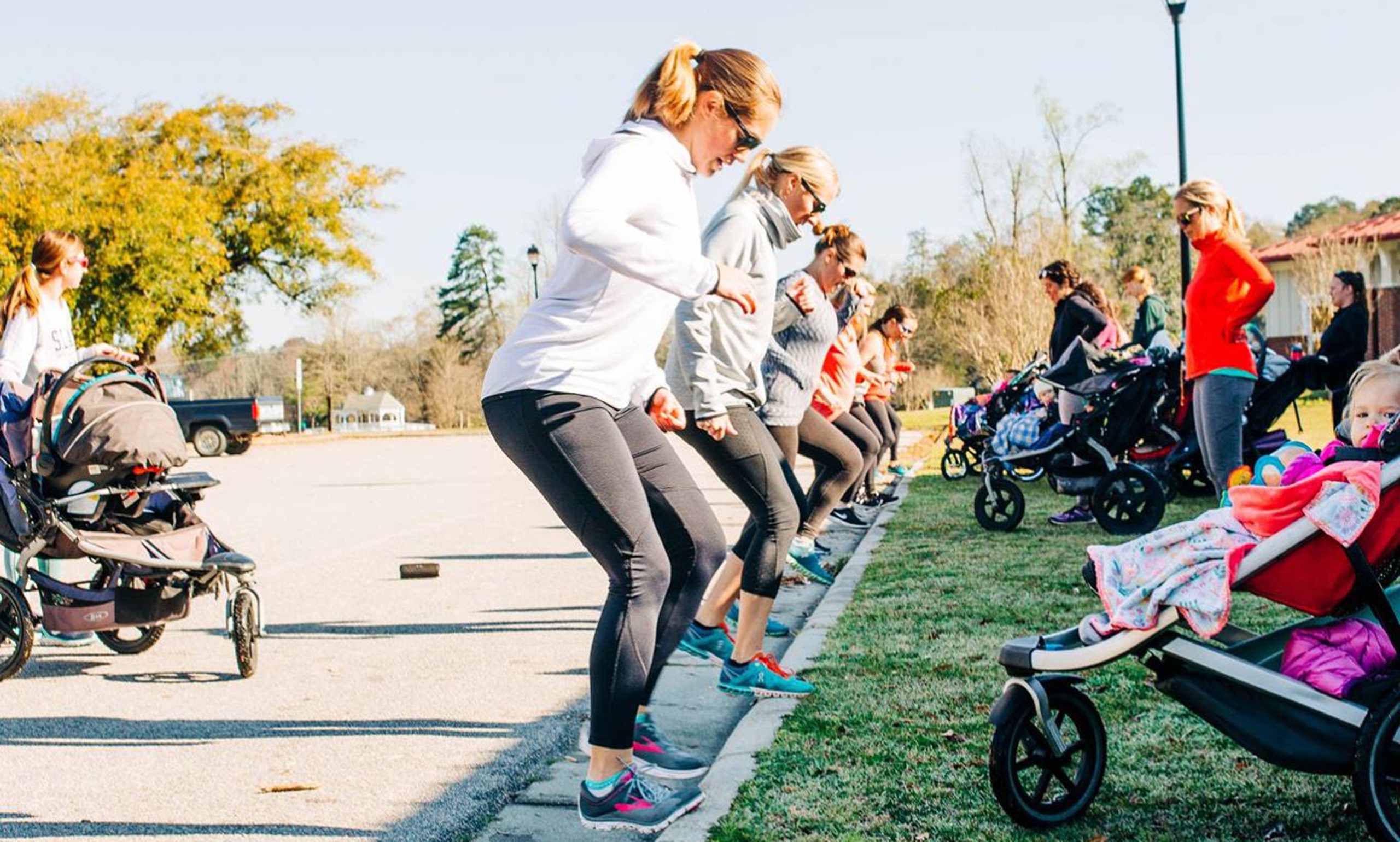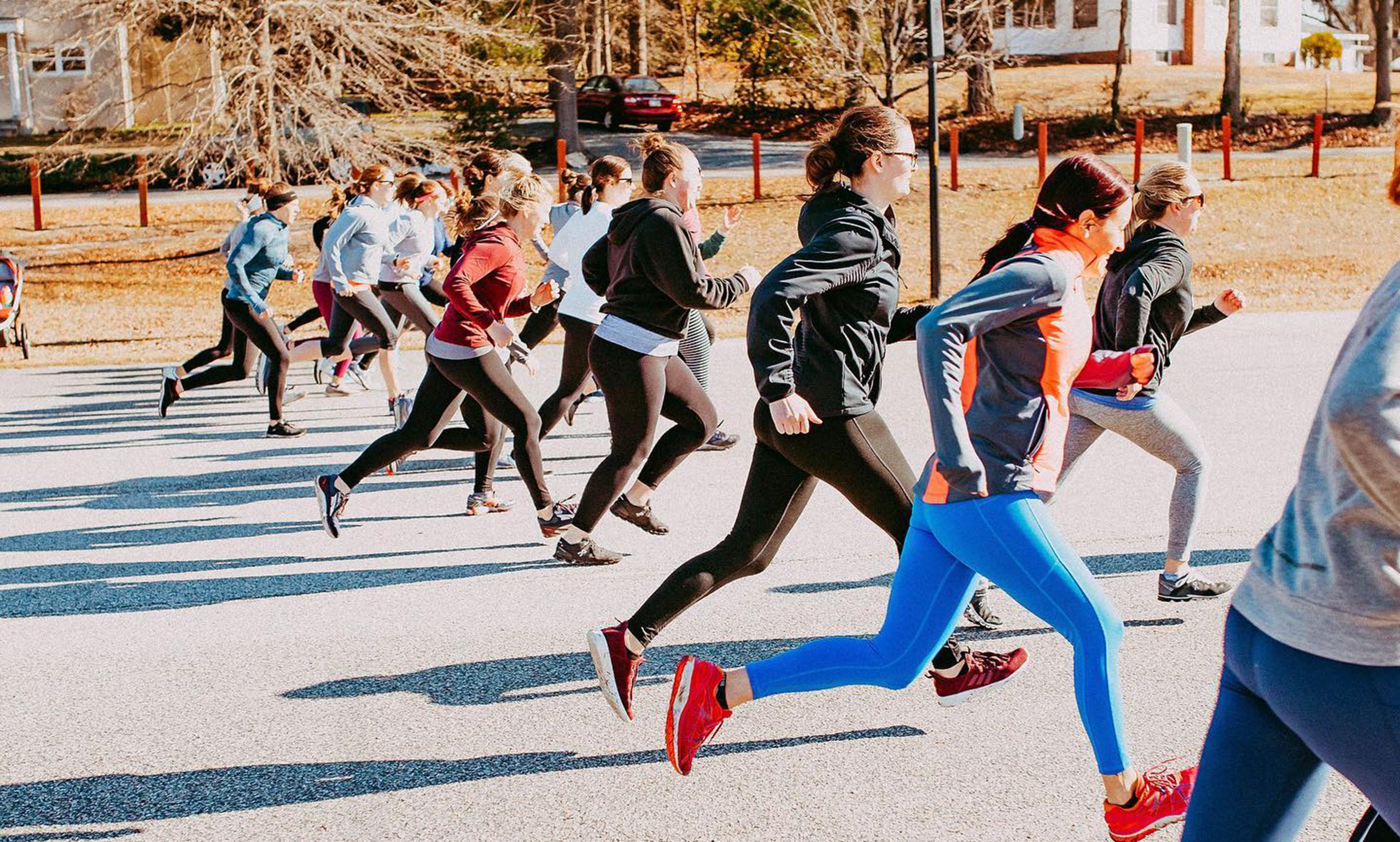 Lucy Lee
Lucy is originally from Athens, Georgia, where she swam competitively growing up. After swimming in college at NC State and graduating from grad school at UNC, Lucy and family moved to paradise in Hawaii. While not working as a social worker, Lucy spent much of her free time there ocean swimming, hiking, and visiting the outer islands. 
Lucy was excited to return to North Carolina in 2019, and after her second baby was born, she joined SLAM as a way to start feeling like herself again. Even though she vividly remembers how sore she was after that first class, Lucy was hooked by the welcoming, supportive and energetic atmosphere at SLAM. Lucy is an ACE Fitness certified Group Fitness Instructor and CPR/AED certified through the American Heart Association.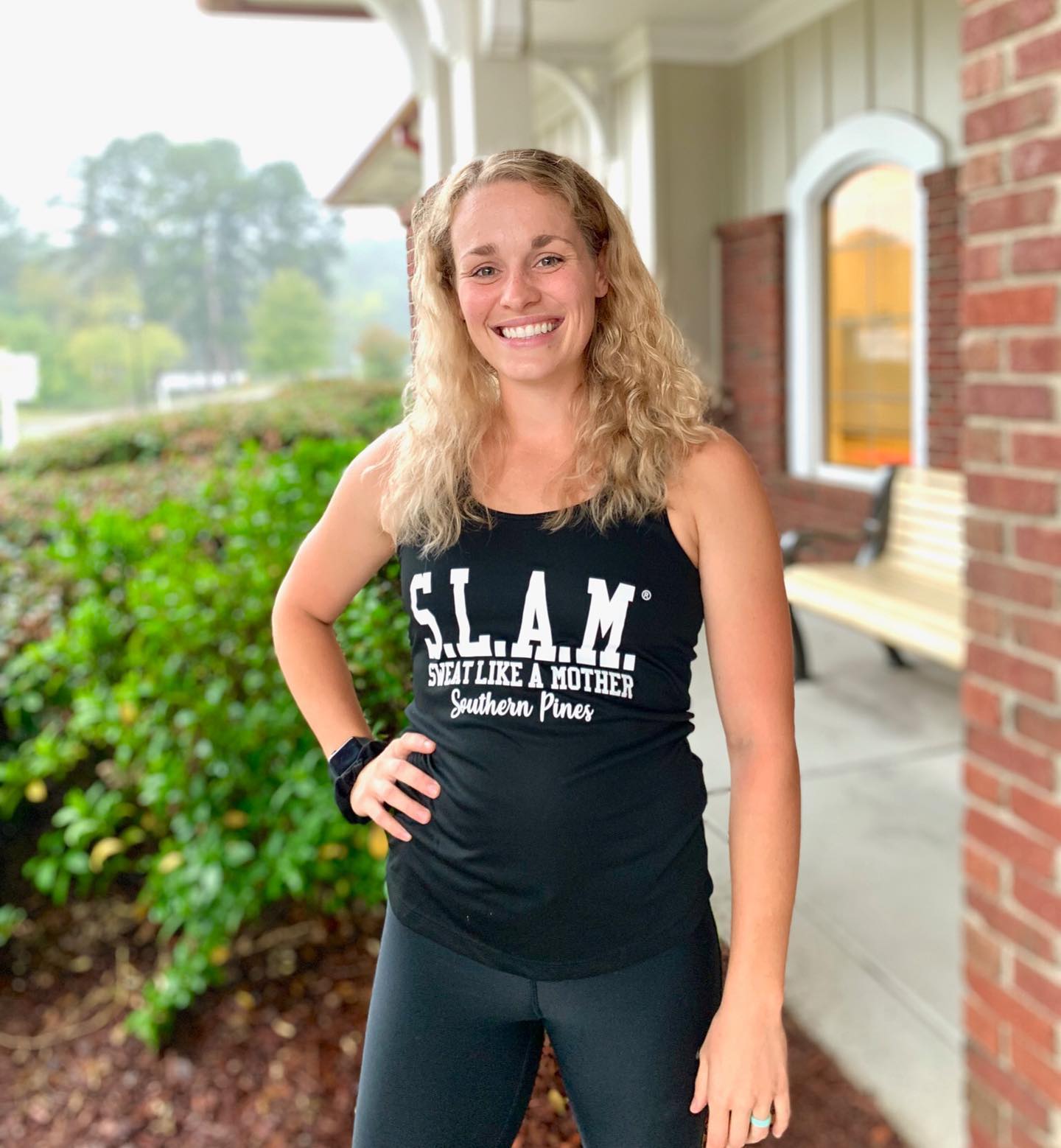 Elli Prikazsky
Ellie is a NSCA Certified Strength and Conditioning Specialist with a B.S. in Health Behavior Science. She is originally from Pittsburgh, PA but has been living in NC for the last four years serving in the Army along with her husband. After having her first daughter, Ellie and her husband decided to transition out of the military and move their family to Aberdeen. Ellie now stays at home with her daughter Blake and started coming to SLAM in June 2021 shortly after her transition out of the Army.
Her passions include helping mamas understand the basics for exercise in order to prevent injuries and get the most out of any exercise. She loves weightlifting, high intensity workouts and anything including burpees! She loves the community that SLAM provides and wants to expand her knowledge of fitness in order to support her fellow SLAM mamas.
Mary Moris
Mary is a Doctor of Physical Therapy and an Orthopedic Certified Specialist, with a focus in treating running injuries. Currently taking time off to be home with her babies, and she is excited to be instructing with SLAM in order to serve mothers through knowledge of healthy movement, injury prevention, and fitness. She is a certified group fitness instructor through ACE, and joined SLAM in fall of 2020. The strong community of women she encountered, motivating and supporting each other both during and outside of class, was a blessing for her as a new mom.
Mary is a proud Army wife, mother of two little girls, a former collegiate track athlete, and lover of running and triathlons. She loves learning, alongside her other SLAM mamas, to enjoy and cherish these days when toddlers run amok and spit up on her outfit is the norm.
Dorothy Murtaugh
Dorothy has been a lot of things, most recently an RN, military spouse and a mama of a cutie. She is a Pregnancy and Postpartum Athleticism Coach, ACE certified fitness instructor and an ACLS and BLS provider. As a SLAM member since 2018 and instructor since 2019, she has motivated mamas just by being humble, strong, supportive, and awesome and makes us sweat with her sneaky moves and cardio hardio.⁣
⁣
Dorothy says "SLAM has not only helped me get into the best shape of my life, but has introduced me to some remarkable women. Together through tough workouts, fun group chats and playdates, we have created one amazing community. Instructing these mamas is truly a privilege. I hope you will let our incredible team help you reach your fitness goals. Like I always say, 'The hardest part is just showing up.'"
"This group brings together a group of strong women that lean on each other to get stronger. The workout is tough, but the community makes it fun and keeps me coming back. There is a place here for all fitness levels with no judgment- only encouragement. Love this group and would highly recommend!"
"I look forward to going and getting my sweat on, I have never been stronger or felt more confident with my body. However, this group is more than just getting fit together. This group is an amazing supportive community of strong, fun-loving women. Women who have become more than just work out companions, more than just friends but have become family."
"Amazing workout that comes with an even better group of ladies! Every workout is different and fun, and I love the kids' playgroups and mom's night out! I LOVE this group!"