June S.L.A.M.er of the Month – Jen Ragsdale
My name is Jen Ragsdale and I've been a member of Stroller Strong Moms- Anchorage since August of 2017, shortly after Katie opened it. I am a military spouse, SAHM to three kids (10, 7, and 5), and served in the Army National Guard for 8 years before deciding to stay home with the kids full time. While we were stationed at Fort Leavenworth the SLAM Leavenworth opened up, but I already had a regular workout routine and a community so I never got around to trying it out. When I heard that the Anchorage location was opening shortly after moving here myself, I decided to check it. I didn't have an established community in Anchorage yet and thought that this might be a good opportunity to meet new people. The fact that this was also a way to get in a workout was just a big bonus.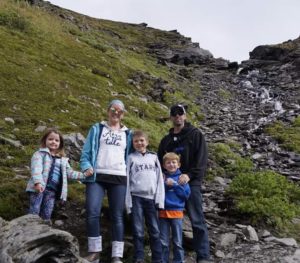 I was super excited to get back into a workout routine. Those of you who have had to PCS (military move) know the struggle of camping in empty houses and eating way too much takeout because you don't have cooking utensils. During that first class I specifically remember doing a fitness rendition of Duck, Duck, Goose and having to race a very pregnant Mama (turned friend) and having her kick my butt. The other workouts were equally as difficult and fun. That class had me hooked; I knew it was exactly what I needed to get my butt back into gear post PCS. In addition to a killer workout, I immediately loved how everyone was so welcoming and inviting. It blew my mind that all these ladies had just met themselves, yet it felt like they were all best friends. While it can be hard for me to open up and get to know new people, these ladies went out of their way to make sure I felt comfortable enough to come back. And I did.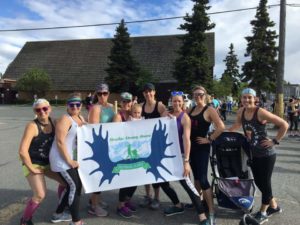 In those first few weeks of attending, SLAM Anchorage hosted a Moms Night Out at a trivia night at a local pub. Back then, when the group was just starting, MNO attendance was smaller than it is now. Still, getting the opportunity to hangout with other women who understand Mom struggles was so important to me. That's when this group really became more than just a workout program for me and turned into a true community of friends.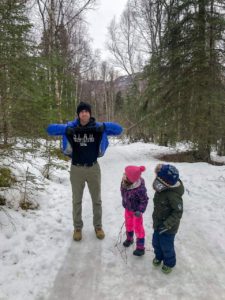 Health and fitness have always been a big part of my life, but became even more important to me after becoming a mom. I wanted to be healthy for my kids and be strong enough to lift them around on the playground. Being a part of SLAM has not only been great for me, it has had a positive impact on my children. My 5 year old likes to play SLAM with her babydolls. She runs around with her stroller and does better burpees and pushups than half the kids on my big kid's hockey team. Both my 7 year old and 10 year old have found a new love for running and were a part of their school's running club this Spring. My 10 year old even completed his first 10K and 12K runs in May, averaging around a 9 minute mile!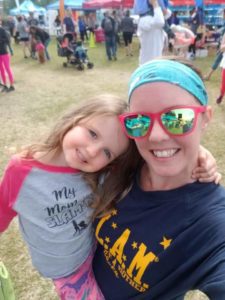 While those first months of class were brutal for me, I love how each month of showing up regularly I got to see improvements in my own abilities and strength. I went from someone who wasn't a runner (and I maintain that I still am not), to someone who actively signs up for different runs with SLAM Anchorage. I even did the Hightail Half all women's half marathon and the Humpy's Runfest Marathon Relay last year, and I will be participating in my most challenging run this summer with the SLAM ladies, the Alaska Relay (covers over 200 miles from Chugiak to Seward, AK using a 12 person team going nonstop). I love that SLAM continues to challenge me physically and mentally, making me a better athlete than I was even BEFORE kids. This just goes to show you that with the right motivation (aka SLAM motivation!), being a parent has nothing to do with your goals. You can still crush new goals and hit PRs as a Mom, and I have that knowledge entirely thanks to this group of amazing women.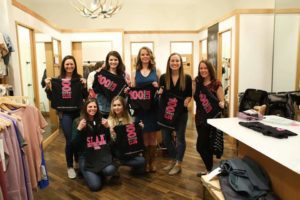 Now, I am in another transitional season of life. We are getting ready for our next PCS, and this time we are headed to Washington D.C.! One of the first things I did upon learning about our next duty station was contact the owner of SLAM D.C. to ensure that we would be able to find a place to live close enough to SLAM. This community is a large part of my sanity as a SAHM to three kids, so that was absolutely a priority for me. I look forward to this move knowing that when we get there, I will have a family just waiting to meet me.