Clarksville, TN
The Gateway to Southern SLAM'n
Clarksville, TN
The Gateway to Southern SLAM'n
Foy Recreation Center
Rotary Park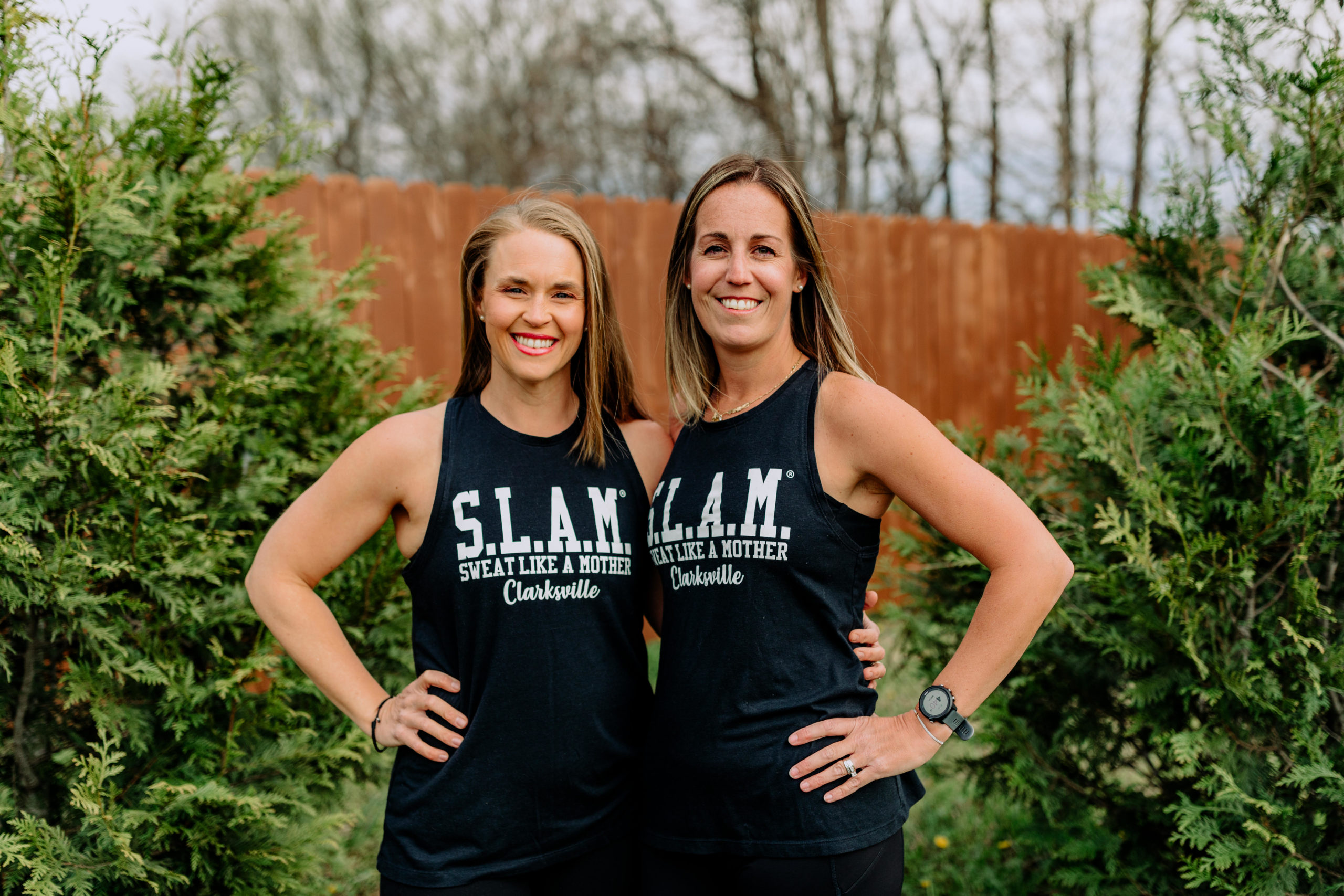 Anne & Erin | slamclarksville@sweatlikeamother.com
This dynamic duo began their SLAM journey together in 2017 at SLAM Leavenworth. They reunited in Clarksville to continue the SLAM Nation mission of empowering mamas through motherhood using their expertise of fitness & love of community. Though Erin's family had relocated to Texas, these two continue to lead a  thriving SLAM community here in Tennessee!
Single Class Pass
Perfect for dropping in on a class from time to time

Expires after 1 use
5 Class Pass
Good for those planning to attend class biweekly

Expires 2 months after purchase
10 Class Pass
A great option for attending class once a week

Expires 4 months after purchase
Monthly Unlimited
Perfect for attending often

Cancel with 2 weeks notice, and pregnant moms may place a hold
Anne Perrault | slamclarksville@sweatlikeamother.com
Anne is an ACE certified Group Fitness Instructor and a certified Pregnancy and Postpartum Athleticism coach. She also holds a certification in CPR & AED through the American Red Cross.
She found SLAM in 2017 at Fort Leavenworth and has never looked back! After moving to Tennessee, Anne would SLAM with Nashville once in a while and did a round of Virtual before becoming one of the original SLAM Clarksville members when it opened in 2019. She began coaching in the summer of 2020 and took over as SLAM Bosses with Erin in the spring of 2021!
A girl mom 3 times over and a proud Army wife, Anne spent her youth as a swimmer but has since turned her cardio to the pavement and really enjoys running; either solo or while pushing the BOB with her youngest in it.
Anne's favorite SLAM stations to coach are EMOMs, Tabatas and really anything that gets the mamas running! She loves watching and cheering as they push themselves and reach for those goals and new challenges! When she's not running or SLAMn', you can find this soccer and dance mom carting her girls to their practices or just enjoying time with the family.
Erin Sattler | slamclarksville@sweatlikeamother.com
Erin is ACE Group Fitness Instructor certified, a Pregnancy and Postpartum Athleticism certified coach and American Red Cross CPR & AED certified.
She first started SLAM in 2016 with SLAM Leavenworth. She has since SLAMed with SLAM DC, SLAM Clarksville and currently SLAM Ft. Hood. She began coaching in 2020 and has experience coaching both in person and online classes. In 2021, Erin and Anne took over as SLAM Bosses of SLAM Clarksville! After she and her family PCS'd to Ft. Hood in the summer of 2022, Erin began coaching there and then became a co-owner with Catherine in December 2022.
Erin's favorite way to SLAM are heavy weights, sprints and stairs. Her favorite parts of SLAM are seeing moms reach their goals, snuggling fussy babies and chatting with the toddlers when moms are on spa runs.
Although she and her family have left Clarksville, she visits often and teaches SLAM the Alarm classes online!
Katie Paquette | Instructor
Katie holds a Bachelor's degree in Exercise Science, is an ACE certified Group Fitness Instructor and is CPR & AED certified.
She has been living the SLAM life for over 4 years! Her journey began with SLAM Fayetteville before relocating to Clarksville in 2020. Since joining the instructor team in the summer of 2021, her favorite SLAM station to coach is a good and tough chipper. However, if she's the one exercising, then she's all about the AMRAPs!
Katie is a proud military spouse and a mom of three: two girls and one boy. When she's not SLAMn', you can find her on the soccer field coaching her kids' teams or out for a run!
I didn't need friends, but found camaraderie. I didn't have body goals, but I found a new love for mine. I didn't desire a change, but I have been changed..