Savannah
The Hostess of the South
Forsyth Park
Drayton St & W Gaston Street, Savannah, GA 31401
Wednesday | 9:30 AM – 10:30 AM
Schedules are subject to change, please visit our Instagram and/or Facebook pages for updates before planning your first visit!
Forsyth Park is everything we love about Savannah, 30 acres of palms, large oaks, and historic landmarks. And everything we love when we need good variety and sweat: Big open fields for strides and resistance stroller pushes, garden walls for step up and wallsits, park benches, a 1-mile, tree-lined trail around the park and its famous white fountain, plus a huge stage where we get creative with our S.L.A.M.
Parking & Meeting Location
There is plenty of parking on the side streets around the park on Hall, Gwinnett, and Huntindon Streets. You can also park in one of the two park parking lots, though the one next to Forsyth Park Cafe is closest to the playground where we meet. Start with us in the shaded grassy area next to the playground in the center of the park.
Questions? Contact Jennifer.
J.F. Gregory Park
521 Cedar St, Richmond Hill, GA 31324
Monday,Tuesday, Thursday + Friday| 9:30 AM – 10:30 AM
Schedules are subject to change, please visit our Instagram and/or Facebook pages for updates before planning your first visit!
Located south of Savannah in Richmond Hill, J.F. Gregory Park is family and sweat friendly. There's a large covered pavilion with picnic tables for pushups, a stage with steps for all kinds of stair work, grassy hills for sprints, and lovely wooded, 3-mile trail for running and more sweating!
Parking & Meeting Location
In the lot at the entrance of the park, you will find plenty of parking. Meet us in the grassy area next to the playground.
Questions? Contact Jennifer.
Forsyth Park
J.F. Gregory Park
Jennifer Bassett | jennifer@sweatlikeamother.com
Jennifer is an ACE certified group fitness instructor and also CPR/First Aid certified. She has her bachelor's degree from Clemson University, Go Tigers! She discovered SLAM Savannah while dreaming of becoming a mother and couldn't wait to jump in. She was living in Fort Drum, NY when her son arrived and she soon joined SLAM Fort Drum. The connection was immediate and it wasn't long before she was instructing. Her Fort Drum SLAM mamas supported her through her IVF journey, regularly giving her shots to get baby Annie here. Another move back to Savannah and there was no question that she would continuing SLAMing back where she first noticed the strong mamas! Becoming SLAM Boss was only fitting. She is excited and inspired by the community and wants to continue to keep SLAM a place where women feel supported, challenged, and at their best! You can find her SLAD (husband) Colin SLAMing beside her on his days off and her SLAMkids, Will (2) and baby Annie, in tow most days. Her favorite way to SLAM is with mini AMRAPS incorporating running and always glutes!
SLAM Free Trial
 Perfect for those attending their first class who want to learn more about SLAM

Expires after 1 use
10 Class Pass
A great option for attending class once a week

Expires 6 months after purchase
20 Class Pass
Good for those planning to attend class biweekly

Expires 6 months after purchase
Monthly Unlimited
Perfect for attending class often

Cancel at any time with 2 weeks notice, pregnant moms may place a hold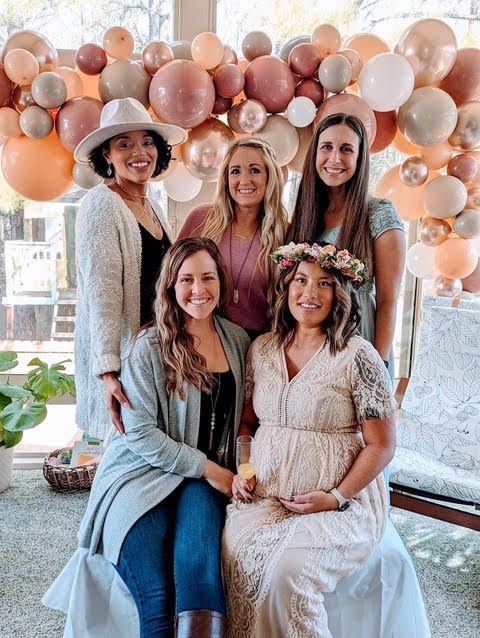 Hilary Franklin| Instructor
Hilary is IFTA Group Fitness Certified and CPR/AED certified. She grew up in VA, and after a few moves around VA and NC, moved to Savannah with her husband and pup Finn in 2017. She previously taught Barre and Yoga formats, continuing to do so up until 2 weeks prior to having her baby girl Eva in 2018. While pregnant, she heard about Stroller Moms through a friend. Being a SAHM and fitness lover, Hilary was ready for something to get back into a workout routine that fit being a Mom, along with finding a community for her and Eva. In August 2019 Hilary pushed her stroller onto the grass at Forsyth Park for her first Stroller Mom Class, and hasn't stopped since. During all the Quarantine time her passion for SLAM through Cyber grew even bigger than she could have imagined and she joined our Team as an instructor. Hilary's favorite way to SLAM is with compound exercises that challenge you and make you feel so proud after you crush it! She Ioves the energy and encouragement all the Mamas give, and being in there being every Mama's cheerleader! We become Stronger, Together, by raising each other up!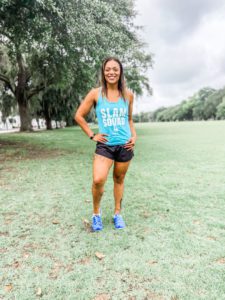 Jessica Ross | Instructor
Jessica is a Military veteran and prior Law Enforcement officer, who is currently pursuing a Bachelors degree in health science. Jessica is a IFTA certified Group Fitness Instructor. She is CPR/AED certified. Jessica lives in Savannah with her husband Courtney and their son Amir. Jessica has overcome and crushed her own weight loss and fitness obstacles. She is passionate about helping others to find their own inner strength and being a part of their fitness journeys. Jessica's favorite ways to SLAM are through HIIT, and group accountability challenges.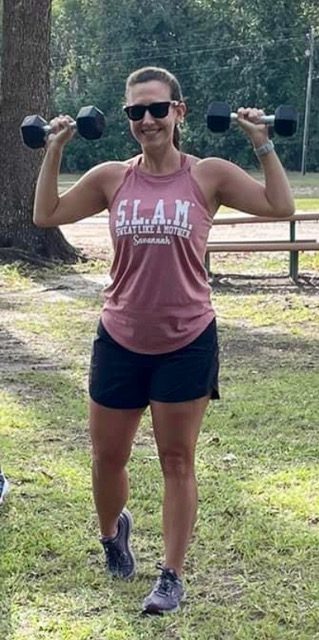 Jennifer Aiken | Instructor
Jennifer is a Ceritified Nurse Midwife and a graduate of Baylor University. She is IFTA certified and CPR/AED certified. Growing up in Florida, Jennifer enjoyed playing soccer, volleyball, and basketball. After college she joined a kickboxing gym and ran her first half-marathon. However, during pregnancy and postpartum she was unsure how to best remain active. When she found SLAM in 2021 she fell in love! SLAM unites her passion for caring for women and love of fitness. Her favorite ways to SLAM include tabatas, partner challenges, and themed workouts.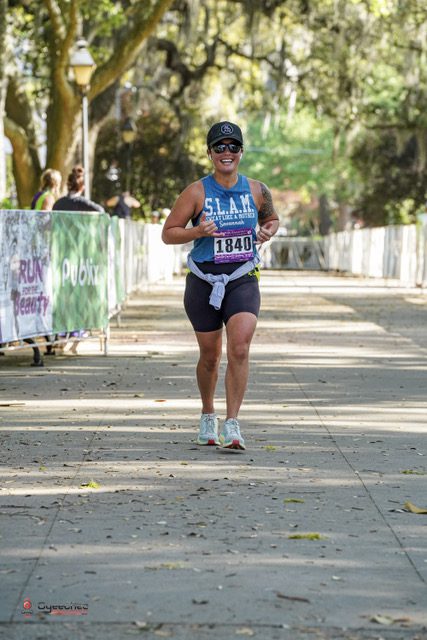 Riley La Maikai Slavich | Instructor
What SLAM means to me: SLAM is home! I started SLAM when I was pregnant with Olive and she has grown up with so many SLAM aunties. The sweaty, badass workout got me started, the SLAM community kept me coming back for more. I look at being an instructor as a way to facilitate community and serve these mamas as I have been served. The support of fitness goals and mama life is unparalleled, I drank the Kool-Aid and I will ALWAYS be a SLAM-MAMA-JAMMA!!!
My favorite type of class: Any time I get to shake my booty – dance workouts are my vibe. I also love extra intense circuits – I want to feel like I'm gonna lose my breakfast!
How I love to encourage the mamas: I hope to encourage mamas by building their confidence with initially daunting workouts that I know they can complete. Even if I get some wide eyes when I explain, as the mamas complete the workout, I can see the pride in their eyes – that lights me on FIRE. Also, I hope to create fun classes so we can all just shake our booties and not take it all so seriously.