Hey S.L.A.M fam! I'm Georgina, the owner (I still can't get used to that!!) of S.L.A.M Catterick! I'm feeling pretty grateful, excited and just a tiny bit nervous to start this adventure with you all!

I was born and raised in Cambridge UK, where I met my now husband Josh. Nearly 10 years, 5 moves, 2 countries, 2 kids and 1 dog later we have ended up in Catterick, North Yorkshire!

My S.L.A.M journey began in September 2019 when we moved to Aldershot. I didn't know anyone in the area and had a three year old and 8 week old, how was I going to get out the house and meet anyone with 2 babes in tow!? I saw a post on Facebook by S.L.A.M. Aldershot advertising a new fitness class in the area. Anyone who knew me up to this point can vouch I was NOT athletic!! I had never really exercised before and didn't have the urge to start now! That being said I had nothing else to do (and the Facebook post mentioned wine nights…) so I went along… and never looked back!!

I can't even imagine my life over the last 2 years without S.L.A.M in it! It seriously has been one of the best things to happen to me! It's hard to put into words but S.L.A.M is so much more than an exercise class, it's friendship, community, support, a group of strong women lifting each other up! We have cheered each other on, wiped each others tears and supported each other through deployments (and a global pandemic!!)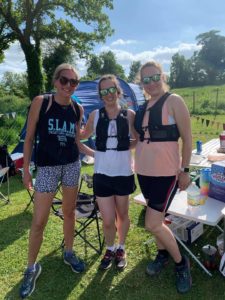 Don't get me wrong, it's not *all* about the community, the classes are pretty epic too! Designed to SAFELY take you through all stages of motherhood, but don't let that fool you into thinking they're not hard core! I started S.L.A.M Aldershot at 8 weeks postpartum having never really exercised before, Jemima guided me safely through exercises that were appropriate to me, building up my confidence and fitness! Her dedication and encouragement were truly inspiring, she pushed me to reach goals I never thought were possible! I've gone from not being able to run for more than about 30 seconds to running a half marathon! That NEVER would have been possible without S.L.A.M! The fun, diverse and engaging classes at S.L.A.M Aldershot sparked a passion for fitness and helping other mums to achieve their goals! With Jemima's support, I qualified in Level 2 group exercise and Level 3 supporting pre and post natal clients with exercise and nutrition and began instructing at S.L.A.M Aldershot! Being a part of other women's fitness and motherhood journey was truly special!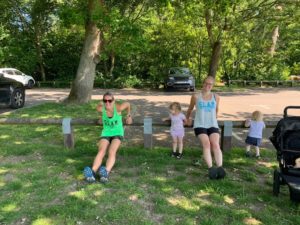 When I heard my family would be leaving Aldershot, I couldn't bear leaving S.L.A.M behind me, so I decided to bring it with me! The idea of SL.A.M Catterick was born! I can't wait to create a fierce community of strong women supporting each other through the highs and lows of motherhood… and have some fun along the way!!  
Follow us on Facebook and Instagram for information on our opening and more! Webpage coming soon!!!