July S.L.A.M.er of the Month – Maureen DeAntonio
Hi! I'm Maureen and I've been SLAMing in Monterey since October 2017. I am married to Tom, an Army Reservist/Colorado State Trooper, and we have a son, Conor, who is 15 months old. Growing up I was very active; I played a variety of sports before fully dedicating my time to competitive Irish Dancing. I danced for 14 years and competed in the Irish Dancing World Championships three times before retiring. I joined Army ROTC as a freshman at the University of Dayton and developed a love for running, ruck marching, and cross training. Tom and I met when we were both in the Army at Ft. Huachuca, AZ, he followed me to Ft. Carson, CO and we got married in 2014. About four months before I left active duty I found out I was pregnant with Conor!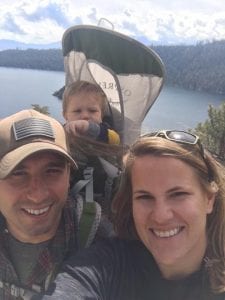 I so wish I had SLAM during my pregnancy! Instead, I let nausea, fatigue, tendonitis, and a long commute to my new civilian job be my excuses for not working out the way I should've during my pregnancy. After Conor was born and I was cleared to work out again, I tried to do a push up (something that should have been very easy for this Army girl!) and it was a wake up call. I went from being able to run two miles in 12-14 minutes to running/walking one mile in 12 minutes. Yikes! I worked out at a CrossFit gym for about two months before we got orders to Monterey.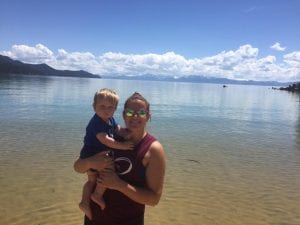 I had seen a friend from the Army/new mom posting about SLAM on Facebook and saw that there was a location in Monterey. I was skeptical about a stroller workout group, but this friend is in excellent shape, so I figured if she's doing it, it must be worth checking out. It took me three weeks to finally get the courage to go to a class once we moved here, but once I went, I was HOOKED! The workout was challenging, I loved having Conor with me, and the mamas were welcoming, kind, and supportive. Nobody batted an eye when I had to nurse Conor during class and they understood when Conor wasn't exactly happy being in the stroller (he has cried at many a class).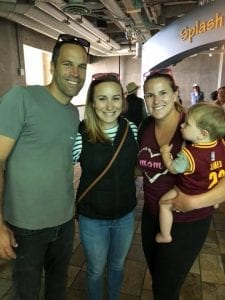 I have never enjoyed a workout more than I do SLAM. I look forward to coming every day! The variety of workouts is amazing and I love the thought and creativity that each instructor puts into her workout. I love the mix of cardio/HITT/weight training we get at every workout with a special love for Heavy Weight Mondays at Toro Park and our biweekly stretch session at YLAM on Fridays!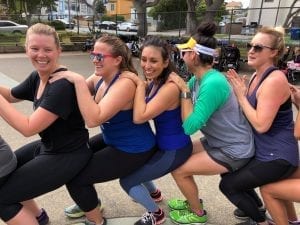 I credit SLAM for helping me get through Post Partum Depression, not only the endorphins from the workout, but the supportive and open community I found to be able to talk about it without stigma with other mamas who have gone through it! I've also met my closest friends in Monterey through SLAM- women who will watch Conor for me when I'm in a bind, workout with me on the weekend or in the evenings, hangout at the pool or playground, or just be there for you and check in on you when you get devastating news. I love, love, love this community and I'm so thankful to be able to SLAM in beautiful Monterey!