What's up S.L.A.M. Nation! My name is Jess and I get to be the owner of S.L.A.M. Cincinnati aka SLAMCINNATI. I am a wife, mom of four awesome kids, army veteran, and Cincinnati native. My husband and I both served on active duty and were stationed in Savannah, GA, which is where I found S.L.A.M. I just had my first baby and was still working full time so my opportunities to attend S.L.A.M. was limited, but after my first class at beautiful Forsyth Park, I fell in love! The workout challenged me, and was honestly better than most of the required physical training we did in the army. I also loved how I had the opportunity to meet other mom friends, and my daughter had a chance to be outside and around other kids. Eventually, we left the military and moved back home to Cincinnati to be close to family.  I transitioned from full-time working mom of one kid, to full-time stay at home mom of two—definitely a shock to my system. I was so grateful to be able to now fully focus on my kids in this new season, but I also had to learn how to just chill out and enjoy being home. Having just left a job that was all about keeping to deadlines and getting things accomplished, it was so hard mentally and emotionally for me to accept a messy house and unfinished to-do lists, in order to learn the rhythms and needs of my daughter, son, and later, our third baby. But I'm so glad I did.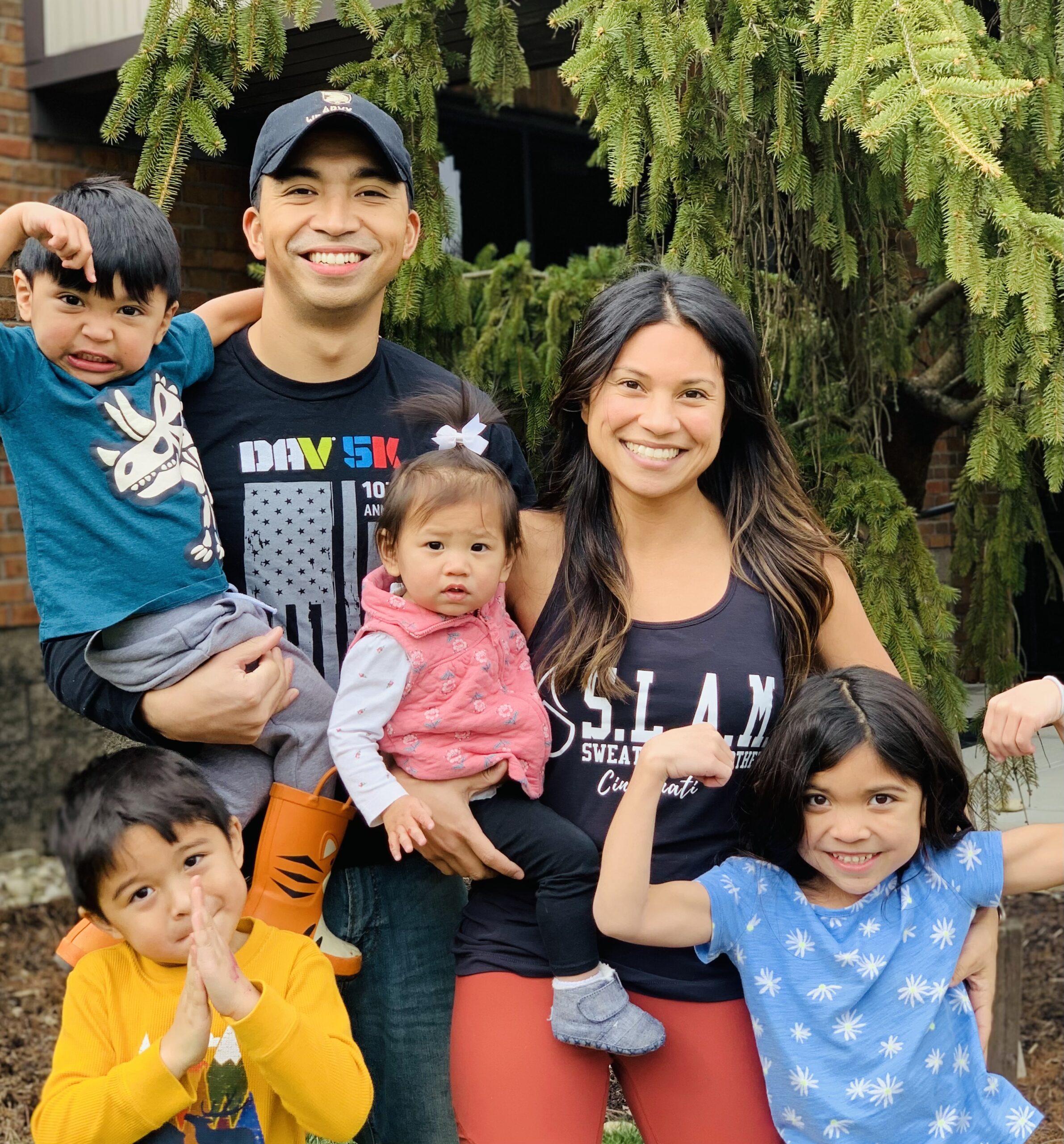 Three years later, our family had a temporary move to Washington D.C. where I reconnected with the S.L.A.M. community.  This time I was pregnant with our fourth baby. Sadly, working out had become an inconsistent luxury for me over the last several years as a stay-at-home-mom.  Maybe it was guilt from putting my crying children in the gym childcare for an hour, or my inability to get out of bed for a 6am workout after I had been up nursing and consoling a crying baby, only getting three hours of sleep that night. The part of me that grew up playing sports and craved physical activity was still there, but I had been shutting it down for so long, I sadly had accepted that I just wouldn't be able to work out regularly in "this season". While in D.C., I quickly realized how S.L.A.M. had made working out more accessible to me.  After those first few classes, I felt like I got that piece of myself back again. The sweet thing too was now that I was attending class consistently, I was more able to experience all the other awesome bonuses that come with S.L.A.M.– a welcoming squad of moms where I formed real friendships, new friends for my kids, organized playgroups, S.L.A.M. N' Coffee, post workout (and maybe during workout 😉) chats, Mom's Night Out, and the list goes on.
Cincinnati needs a S.L.A.M.! Partly because I cannot imagine continuing my mom life without it, but also, because I cannot wait to show other Cincinnati moms how they can thrive and fully be themselves in this special community—a community that sweats to become physically, mentally, and emotionally stronger. Momming is a tough job, so let's do this together! For the latest on our opening details, follow us on Facebook and Instagram!