Hey hey! My name is Sheena Richards and I am thrilled to be opening the newest Stroller Strong Moms location in Newport News, Virginia.  I am a military wife and mom to three awesome kids.  My husband has been active duty military for almost 20 years and we are now stationed at Fort Eustis, VA. I grew up on a farm in a very rural area of Northwest Iowa.  I am a proud University of Iowa alum and diehard Hawkeye fan.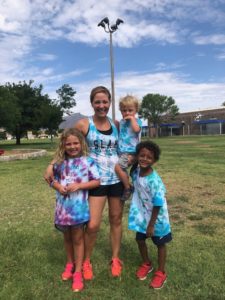 My SLAM journey began over 9 years ago in the original SLAM city of Columbus, Georgia.  I would run at Lake Bottom Park almost every day when I'd get off of work.  I vividly remember seeing a group of moms, with strollers, working out.  This was a time in my life when I desperately wanted to be a mom, so I remember watching them from afar, hoping and praying that I'd someday be able to be a part of this group. When I finally became a mom, I continued to work full-time as a Nuclear Medicine Technologist. There were several times during my first four years of motherhood that I wanted to join but my schedule would not allow and virtual SLAM hadn't been established yet.  Finally, in 2017, when I was out on maternity leave with my third baby, my sister Katrina was visiting and she finally convinced me to go to a class in Columbus. We were both hooked from day one.  The sense of community that I felt was instantaneous.  Katrina has since opened up SLAM Space Coast and is leading an amazing group of women at the Southernmost SLAM. I love that my SLAM journey started with my sister.  One of my absolute favorite memories with her was running Ranger Burger Hill during Run Across Georgia.  I will never forget the tunnel of SLAM sisters that cheered us on as we reached the top of that hill!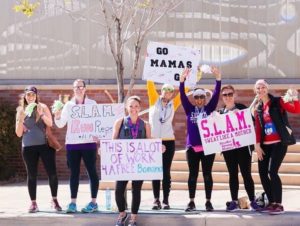 Fast forward to 2019 when the military moved us to El Paso, Texas.  When we found out we were moving, I was so excited because I knew my friend, Jessica Hamel, had started a SLAM there.  I was at class before the moving truck delivered our household goods.  I knew from the moment I set foot at SLAM El Paso, that I was among some incredible woman that would forever continue to change my life.  Between my Columbus and El Paso SLAM sisters, they have all taught me how to be a better mom.  They are encouraging, supportive, inclusive, and inspiring.  We all come from different backgrounds and different fitness levels, yet we all have the most important thing in common. We are all mothers that are trying to navigate parenthood together.  What's even better is that my kids have made some of their best friends with fellow SLAM kids.  They look forward to class just as much as I do!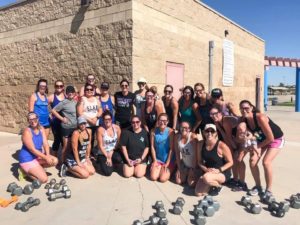 When my husband found out we were moving here to Fort Eustis, Virginia, a part of my heart broke because I knew there was not a SLAM in the area. I decided to go back to work fulltime as soon as we moved. My kids' school was 100% virtual due to COVID and I soon realized that they were struggling with the recent military move, along with trying to navigate virtual school.  I realized I had to make a change for my family and made the hard decision to resign from my job.  But I also realized that I need SLAM and started thinking that maybe I could build a community and inspire women in this area just like my SLAM family has inspired me. With a whole lot of support and encouragement from my SLAM family and friends, "Tidewater SLAM" is about to begin! In a few weeks when Stroller Strong Moms Newport News opens, I will think back to those days at Lake Bottom Park when I watched this group from afar.  I truly had no idea the profound impact these women would have on my life. I am forever grateful and forever changed. 
Stay up to date on our opening information on our webpage and follow our sisterhood on facebook and instagram!