Member of the Month – Jen Young of Stroller Strong Moms Cameron/Sanford
Our Member of the Month is Jen Young. Jen has been a Member of SLAM Cameron-Sanford since February of 2018. From the moment she arrived, she has been a warm and welcoming face to every new member. Jen greets new mamas (and their little tots) with a big smile and encouraging and motivational words. When a challenge arises (whether it is a SLAM challenge or just in life), Jen takes it head on, always with a positive attitude. We can always count on her to lead the charge on trying to win that SLAM swag! Jen is a loving and caring friend, always ready to lend a hand with or jump in to plan anything and everything, full of determination and motivation, and an amazing support to other mamas! Everyone should have a Jen Young in their lives! I know CamSan wouldn't be the same without her! We love our Jen!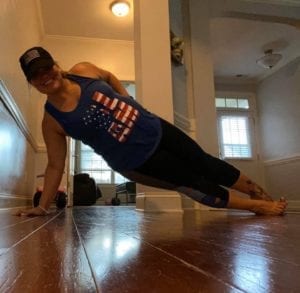 From Jen:
Hello SLAM Fam! I'm Jen Young. I'm a fellow slam sister from Cam/San!
I've been married for almost 15 years to my high school sweetheart, James, we have 3 amazing kids: Brianna who is 15, James who is 13 and Nicole who is 3! We are from Charlotte, NC.
Fort Bragg is our 5th duty station and is one of my favorites but that's because of SLAM. A friend told me all about SLAM before we even got here and how I would love it and to just come and try it. My first day was in February of 2018 and was a little scary but everyone was so welcoming. It was lots of bear crawls, crab walks and burpees; lets just say I signed up that day.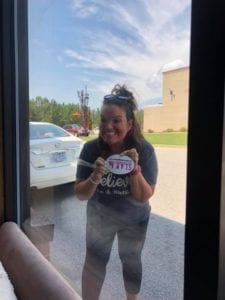 I have not only gained so much strength physically but I have gained some friendships I cherish deeply. My SLAM sisters have not only been there for me, but for my family. They have sent care packages while my husband is deployed and hugged my 3 year old when she's having a hard day because she misses her daddy. SLAM has taught me that this is more than a workout group; this is a family that I want to always be a part of even if that means I can't walk up my stairs the next day. If you are still wondering about joining SLAM but scared, don't be. Once you come you won't want to miss a day! Thank you ladies for pushing me while cheering me on at the same time when I felt like I couldn't run faster or do another push up. You ladies are why I am motivated daily. Love you all so much!