Do you miss SLAM in your life? Have you always wanted to try Stroller Strong Moms but don't live near an affiliate? Have you been waiting for ANOTHER Virtual Get Fit Challenge? Yes? Then join our virtual SLAMdown to SUMMER and get ready to Sweat Like a Mother! We are so excited to bring the SLAM community to mamas who do not have the opportunity to benefit from a local SSM. This 8 week exercise and accountability program will create a stronger YOU! We have new and exciting additions to the previous program and cannot wait to get started. What better time to get SWEATY than when summer is just around the corner!
What are the Details?
Cost: $65
Includes:
3-4, LIVE, Virtual workouts every week from 3 moms who are certified group fitness instructors (including Stroller Strong Mom founder, Alexa Smith) plus 1 additional "at-home" workout.
2, LIVE, one hour Q&A nutrition sessions from our in house Registered Dieticians
2, LIVE, Yoga sessions from Bikram and Power Vinyasa Yogi, Bridget Hall
Weekly Track Workout to get FAST like a mother and motivate you to move outside of class
Closed Facebook group for live workouts, accountability, encouragement, goal sharing, recipes and more…a community!
Weekly fitness and nutrition challenges
Weekly exercise/form/nutrition tips
An initial and final fitness assessment/weigh in/body measurements
Weekly MVPs
PRIZES for those that CRUSH their goals! Did someone say Lulu, goodr and Yeti to name a few?!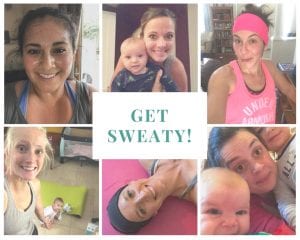 What's the Schedule?
Monday April 23rd: Initial Assessments & Goals (demo of assessment & measurements in Facebook group)
Monday: New Fitness & Nutrition Challenge posted, LIVE workout
Tuesday: LIVE workout
Wednesday: TRACK ATTACK workout posted and explained
Thursday: LIVE workout
Friday: LIVE Workout EVERY OTHER WEEK
Saturday: "At Home" workout posted
Sunday: Go out and be active with your family! PLUS Yoga, LIVE Nutrition Q&A OR "Learn Like A Mother" video
*PLEASE NOTE: The LIVE workouts will save in the private Facebook group for you to use whenever is convenient for you.*
Monday June 18th: Final Assessment
Who are the Instructors?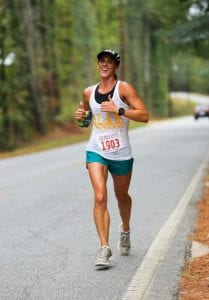 Erin Divinski
You guys, I am so excited to dive into this challenge! I started SLAMing when my almost 5 year old daughter was only 5 weeks old and I have never looked back. I started instructing on our second stint in Columbus, Georgia, about 2 years ago, with another kiddo in tow. Stroller Strong Moms has literally changed my life. I seriously don't know how people do life without it. I was a gymnast until I graduated highschool but I will tell you Stroller Strong Moms got me in the best shape of my life. There is something about being encouraged and pushed by moms surrounding you that makes you WORK and SWEAT harder than you would on your own. That is what makes SSM SO special; you come for the workouts, you stay for the community. Get ready to try some handstands, do lots of burpees, lift heavier weights, learn correct form and have a ton of fun!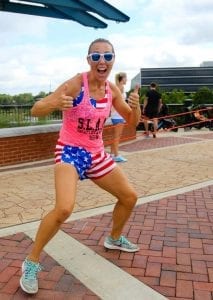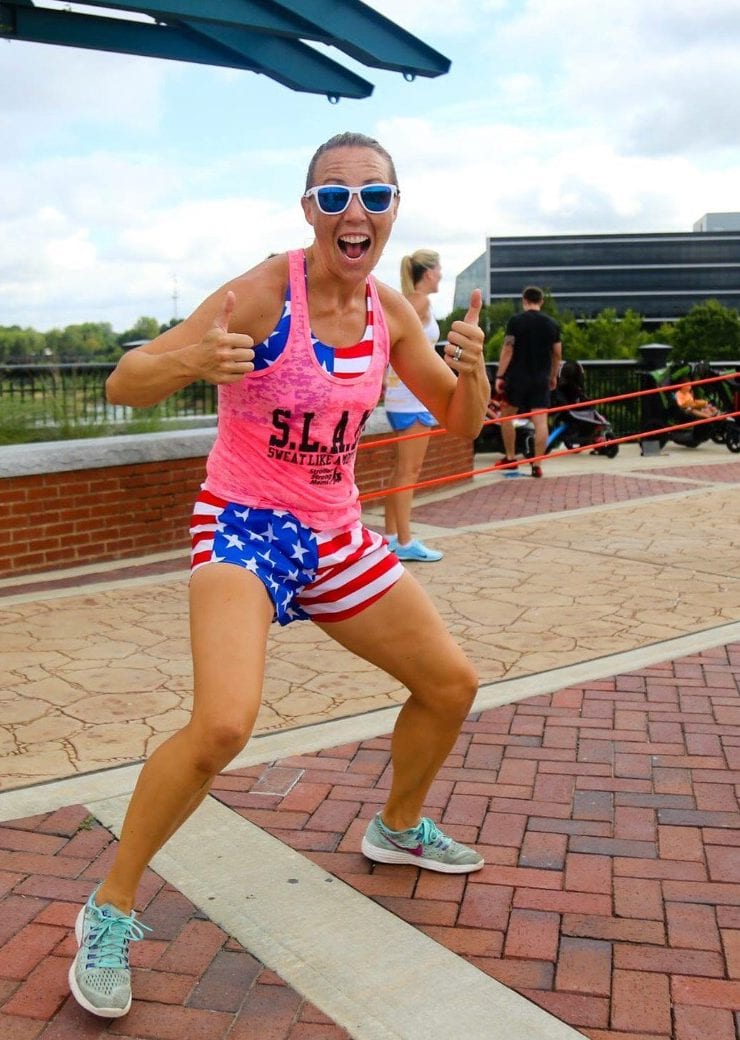 Janet Daly 
Hey! Janet Daly here! I've been a personal trainer and fitness instructor since 2009. I have two boys- a 3 year old and a 9 month old. We now live in Newport, Rhode Island after living in Columbus, Georgia for 4 years. When I was pregnant with my oldest, Bridget Hall (our yoga instructor) convinced me to come to SLAM and I was amazed at the friendships and HARD workouts! Since moving, I have really been missing my tribe and am so excited to be involved again. I love circuit workouts, running hard, and of course sweating like crazy. Erin is awesome and I am so glad to be teaching with her again!! Let's get to work y'all 😘
What are SLAMers Saying About It?
"I am a full-time working momma and it's often hard to find the time to get in a good workout. The virtual stroller strong mom group is amazing. If you think you can't be motivated through a screen, think again! Not only were the instructors motivating, but this mom tribe is SO supportive. Everyone keeps it real and also lifts each other up. You'll have a whole new group of friends. The workouts are challenging and you can do it during nap time, before you go to work, ANYTIME. I recommend this to all my mom friends who are looking for a boost in fitness." -Libby
Who Can SWEAT?
Anyone who wants to Sweat Like a Mother!
There is only one rule: *If you live in or near a Stroller Strong Moms affiliate location, you will not be able to participate in this Virtual Challenge. BUT, please go check out the empowering and uplifting SLAM community near you, you will be hooked, we promise! Check out our SLAM villages here.*
To find out more about us and follow the latest happenings with our premier workout group for moms in all stages of motherhood, check us out on Facebook and Instagram!
How Do I Sign Up?
To sign up for SLAMdown to Summer, click here! You won't regret it!