"Find a group of people who challenge you and inspire you, spend a lot of time with them, and it will change your life." -Amy Poehler
I happened to stumble across this quote the same day that Jessica Hamel, our SLAMBoss, called me to tell me that she'd selected me as Member of the Month for El Paso (we both cried on the phone, because that's just how we roll.) I believe it to be true with every ounce of my being.
Hi SLAMiverse, I'm Olivia Ham. I'm a mama of two wonderful girls. Madeline is 7, she's a spitfire of a little lady, swims on a competitive swim team and has dreams of competing on American Ninja Warrior. Eleanor will be turning 1 this month, and is the sweetest and happiest little love and my #1 SLAM partner. My husband Ben is a Blackhawk Pilot, who is currently deployed in the Middle East. I'm originally from the Seattle area, the Army has bounced us a few places in the southeast, but El Paso has been home for a little over a year.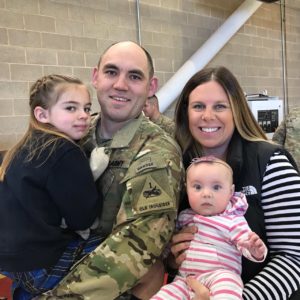 When we moved to El Paso I was 32 weeks pregnant, there was a looming deployment and I knew that I desperately needed a support network. My younger sister SLAMs in Fayetteville (Hi Riley) and she told me time and time again how much I would love it. I saw how SLAM changed her life, the community she had, and how incredibly fit she'd become. I was terrified though. Unlike my sister I wasn't an athlete. I wasn't fast. I didn't want to run half marathons. I've struggled with my weight, body image, and worth for most of my adult life. I wasn't sold on the fact that SLAM was for me. It seemed like a community of super fit mamas, and that was NOT me.
So there I was, 8ish weeks post-partum, when my girlfriend messaged me that SLAM El Paso had a Black Friday deal. In a moment of bravery, I snagged it. My first thought was "Oh crap, now I actually have to go to a class." I was the heaviest I'd ever been and was at the classic, rock bottom. I already heard the negative voices in my head emerging… "Here's another thing to try that won't work. I Basically just donated some money to Stroller Strong Moms El Paso. Oh lord, this is going to be embarrassing."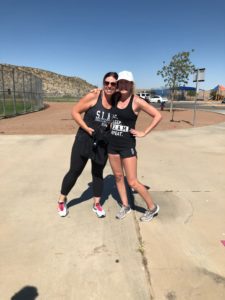 It took me about 2 weeks to muster up the courage to finally go to my first class. I loaded up Ellie, and forced myself to drive there. Once I unloaded my car, packed up the stroller and started to walk over to the gathering group, an energizer bunny of a woman with awesome blonde curls trotted over to me and welcomed me with a huge smile and a hug. I knew I liked Jess immediately. I survived my first class. I couldn't even run the entirety of the short route, but NO ONE seemed to care. I was shocked. Instead I heard words of encouragement from every mom around me, and the famous "Go Mamas, go" from Jess. Everyone was smiling, laughing, and working their tails off. Ok, maybe this wouldn't be so bad.
I was instantly hooked. I left class excited to return, exhausted, and eager to continue to get to know these amazing women who surrounded me. So I did, I showed up and put in the work as often as I could.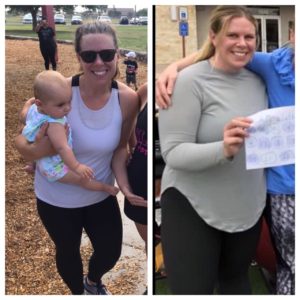 When January rolled around I was beyond excited for the "FIND YOUR STRONG (in you)" 10 week challenge. I thrive on competition and I was ready to rock. I committed to myself and to our community that I was going to stick to the guidelines of the challenge, no matter how hard it seemed in that moment. A few weeks into the challenge my husband left for a 9 month deployment. Boy oh boy, if there'd ever been a moment for my emotional eating habits to have their time in the spotlight, now was it! Instead, I reached out for support. I made healthy choices, both physically and mentally. Bit by bit my life began to change. In the course of the 10 weeks I lost 23 pounds, and a heck of a lot of inches..28! While I was so proud of myself for what I'd lost, what I'd gained meant worlds more. I'd gained belief in myself, confidence, strength, speed and stamina. I won out over negative self talk. I'd gained a community of women who truly get what it means to be a friend, encourager, and strong (in all aspects of the word) bad ass, Mothers.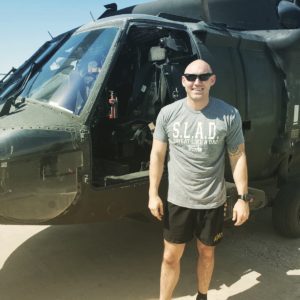 Since the challenge has ended I've continued on my journey to a healthier and happier me, I've lost 50 pounds, I look forward to running the long route at class, and I recently signed up for my first half marathon. WHO AM I?! I have big goals I'm still working towards, and I love that this journey is never finished, it's all just steps along the way to being the best me, I can be.
As cheesy as it might sound, I'm insanely proud of myself. I thrived during a time in my life that could have easily sent me even deeper into a bad place. I truly could never have accomplished this without the incredible mamas here in El Paso. They've cheered me on, loved me, and supported me, and my family, every step of the way. Ok so to be honest, a little (or huge) part of me is wildly excited for my Husband to come home and see how much I've changed. I can't wait to bring him to SLAM, to show him and introduce him to this amazing crew of women.
I'm so thankful for Stroller Strong Moms. I'm thankful for the opportunity to not only work up an impressive sweat, but to do life with these women. The strong, inspiring, women who I hung around with long enough, to change my life.