My name is Melissa Parker and I am a proud slammer with the SLAM DC affiliate. Originally from upstate New York, I moved to the area for a job after graduating college. Shortly after my arrival, I met my husband Matt who was Active Duty Air Force at the time and also a New York native. We spent the next two years exploring DC and all the area had to offer. In the spring of 2011, Matt got orders to MacDill AFB in Tampa, Florida. During the three years we lived in Tampa, we got married, soaked up the beach life and started our family with a yellow lab, Charlie. My husband was approaching the end of his assignment as well as the end of his committment with the Air Force.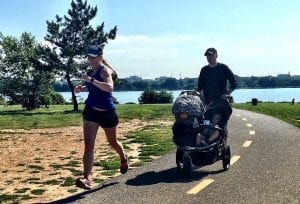 Our plan was to always move back to the DC area. In the summer of 2014, 4 months pregnant we did. We welcomed our first child Brady in November 2014 and it was the most amazing and overwhelming period of my life. We were living in a small apartment while house hunting, my husband was transitioning out of the military looking for a job, and I was approaching the end of my maternity leave and not at all ready to go back to work. One month before I was scheduled to return to work, I made the decision to stay at home with Brady. I was so happy and relieved to not have to go back to work, but found myself asking, now what? I quickly realized how lonely being home all day with a newborn could be. Most of my friends in the area didn't have kids and worked full-time. I had no family nearby and felt alone. I remember feeling guilty about 'feeling bored' at times. Why wasn't I enjoying this time more and making the most of it? It didn't take long for me to realize that what I was missing was, a routine, being somewhere each day where I was accountable for something. I tried to find this by committing to a regular workout routine. I had gotten into running when we lived in DC the first time around, to stay physically fit and active.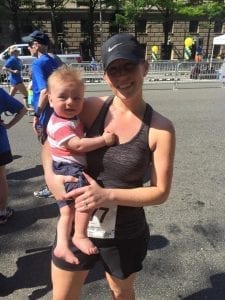 I had struggled with being overweight during my college years, so after losing the weight, I found running. Running was both therapeutic and challenging for me, but I loved it. I joined a running group while living in Tampa, and ran several races including the Marine Corps Marathon right before getting pregnant with Brady. In the pursuit of feeling more 'fulfilled' with my new life as a stay at home mom, I tried to find me time by working out. I joined a gym, started taking outdoor bootcamp classes early in the morning… things I had done before having a baby. Nothing seemed to stick and getting up at 5am to workout wasn't as practical with a newborn. I started looking online for stroller workout groups, after my sister-in-law had mentioned it to me. I hadn't really given any thought to working out with my baby and didn't even know it was a thing.
I remember landing on the Stroller Strong Moms website and seeing pictures of other moms, looking so happy and fit. I signed up for my first class and was immediately hooked. Everyone was unbelievably friendly and inviting. I remember thinking, was everyone actually this nice? I stayed after class and talked with so many different moms I couldn't remember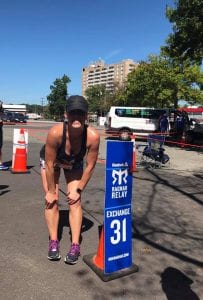 all their names. I knew this group was special, it was more than a workout group, it was a community of moms supporting one another. Everyone was at a different place fitness wise. Some were newly postpartum while others were pushing older kids around. Some mamas were pregnant and expecting their first and others pregnant with their second or third. I was amazed how strong each of these women were.
Over the past three years, SLAM has become such an important part of my life. I slammed my way through pregnancy number two before having my daughter Quinn in October 2016. Staying active and fit throughout the pregnancy was key for me bouncing back postpartum. I felt so strong until the week I delivered and quickly returned back to class as soon as I could. Having slam and our regular after class playgroups helped Brady tremendously during the transition of a new baby. Things were different at home but SLAM helped maintain a sense of normalcy for all of us.
Today, I am stronger both physically and mentally than I've ever been in my life. I've lost weight and inches, gained muscle, made new PR's and was part of a team of SLAM mamas that finished first place in the Ragnar Relay Race in DC. These girls have become more than my friends and I can't imagine navigating motherhood without each of them.