Hi, mamas! Thanks for stopping in to check out who the new SLAM boss is! My name is Kelsey Tucke and I am an Army wife, a registered nurse, and mom to one daughter, Caroline. She just turned 4 – time flies! My SLAM journey is a little different than most. Let me give a little back story. Caroline was born at 30 weeks weighing 3lbs 11oz. She was in the NICU for six weeks learning to feed and grow. She was discharged from the hospital on Veteran's Day in 2015, and my husband deployed to Iraq one week later. There I was, a new mom to a preemie, with a deployed husband. I let the stress of life get to me, and I gained a quick 65 pounds.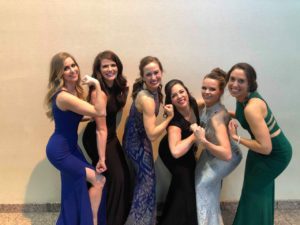 Fast-forward to January of 2018. We had just arrived to our newest duty station in Anchorage, Alaska. I was still overweight, unhealthy and felt miserable! I heard about SLAM Anchorage from a friend and decided to join in on the 2018 Challenge. I was working outside the home, so I did the virtual challenge and attended classes when I could. I finished the challenge – but can't say I was feeling good about myself. I was embarrassed and felt I wasn't "fit enough" or "as in shape as the other moms", so I stopped going to SLAM. I missed it every day! I know this story sounds sad, but it gets better – I promise!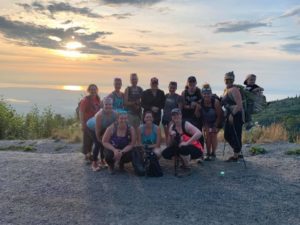 When my husband received orders to deploy again, this time to Afghanistan, I decided it was time to take my health back! I signed back up for SLAM, and with the help of a nutrition program, I lost almost 60 pounds! I still had my nerves about not being "fit enough", but I pushed past those negative thoughts and continued to show up. After class one day, our owner Katie mentioned a Relay team and how they needed a few more ladies to sign up. I casually inquired and laughed it off thinking there was no way I could run a relay – let alone one across Alaska! Katie continued to encourage me and coach me on my running. I finally took the leap and signed up for the Relay Across Alaska! It was one of the most amazing experiences of my life!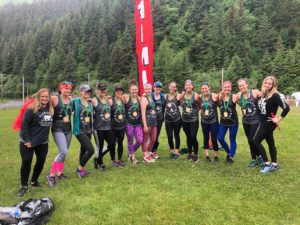 Since then I have pushed those negative thoughts of not being good enough or fit enough completely out of my mind! I have pushed myself harder, grown stronger, made better friends, and have become a better overall mom and wife! I owe all this to my Stroller Strong Moms group. I decided to get certified as an instructor and help other moms feel the way I do now! So when the Army issued our orders to move to Oklahoma, I just knew I couldn't live somewhere without a SLAM. I am here to be that girl to cheer you on, push you hard, and make sure you know YOU ARE WORTH IT!
So… SLAM Lawton is comin' to the Sooner State! Follow us on Facebook, Instagram and our webpage for more info!!