Hi SLAM Nation! I'm Meg Reichert (Rye-Curt…I don't know, it's a weird one). I'm originally from Atlanta, GA but we are currently living in Colorado. I'm an army wife to Brett and we have 2 boys, Noah and Eli. Besides my dog, I'm surrounded by men. Clearly, I need SLAM and all you mamas.  
I started SLAM-ing in 2017 when we moved to DC. Believe it or not, I am NOT athletic. I didn't  participate in sports growing up (spoiler alert – I failed every fitness test in P.E.). I had never even run a mile without walking or just throwing in the towel. And truth be told, I was terrified of large groups of women. But getting dragged to SLAM was one of the best things to happen to me. Seriously, having my babies and getting to SLAM. They're a tie.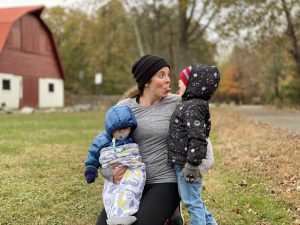 During my time in DC, I found my people. I found a group of women who are welcoming, open, raw, and honest. And through this, I was able to do the same. Through fears with my oldest son to working through some heavy postpartum emotions and depression/anxiety, my SLAM sisters were always there. And somehow, sharing my experiences and emotions with these women made me feel accepted and helped me accept that what I was experiencing was not just okay, but normal. How lucky was I? How could I not want to share this community with every other woman?  
In addition, somehow the DC SLAM Fam got me to appreciate running. I started running relay races and even knocked out a couple of half marathons. Whoa, not a runner. But everything is more fun with a friend. When I moved to Colorado last year I was worried about losing those friendships and not experiencing it somewhere else. LIES! I found a new home at SLAM Colorado Springs. It turns out the SLAM community is far reaching.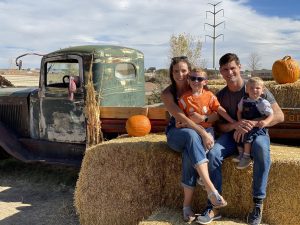 Over the past year, I have been a SLAM instructor at Colorado Springs, laughing and loving with these wonderful ladies. It has been so much fun to experience SLAM from the perspective of an instructor. Getting to witness and aid other women on their fitness and motherhood journey has been a true delight. And it felt like being able to pay it forward.  
This is what really gave me the itch to open a SLAM. I felt the nudge when I was in DC and it just got bigger when I became an instructor. Getting to be a part of these two communities over the past few years has helped lay the foundation of what I hope to be another amazing experience at SLAM Tri Lakes. I have gotten to be coached by some of the best. They have taught me so much about fitness and endurance. But mostly they have taught me how to be present and open to others. And I can't wait to get to shower all the SLAM Tri Lakes mamas with all the love and laughs that they have coming their way!
Follow us on Facebook and Instagram for information on our opening and more! Webpage coming soon!!!