Hi, my name's Emma Evans! I'm married to Dan, who's in the British Army, which makes me a proud military wife and I'm a lucky mum to Olivia, 11, and Ben, 4.
My SLAM love affair began when we were posted to Leavenworth, Kansas for 2 years. I struggled badly with home sickness and felt very lonely when we first arrived. A few months after our arrival I heard of a new fitness group that was starting up, Stroller Strong Moms Leavenworth, which sounded like fun but I was much too frightened to go initially. Friends from my neighbourhood joined and encouraged me to come along but group fitness had never really appealed to me (it actually terrified me), I was happy just doing my solo runs and plodding along. After another few weeks, with my home sickness getting worse, I decided I had nothing to lose by trying out a class as the first one was free anyway- so I gave myself a stern talking to, put on my big girl pants and set off!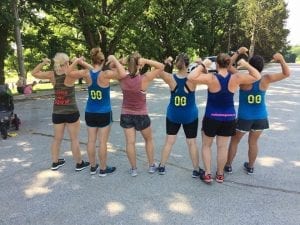 I was genuinely overwhelmed by the welcome I received and the hilarious obsession with my accent – all of a sudden, I had found my tribe and there was no looking back. The workouts were always challenging and I found myself stronger and fitter than I had ever been before, and pushing myself to do things I never thought I could. I developed a new-found self-confidence. Never before had I experienced such a supportive community of women who lift each other up and support each other through the good and the bad times. One of the biggest and most life changing realisations I had through SLAM was that the scales do not define you, strong not skinny -this was something I had struggled with throughout my life, from my early teens.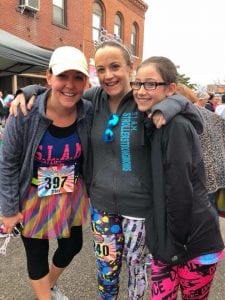 Ben used to come with me to class in his stroller when he wasn't at preschool and loved all the new friends he made and the playgroups (and snacks!) Olivia came and joined in on days when there was no school and she fell in love with it too-it was the perfect environment for her to learn about the way women should treat each other and what they can achieve when they work together and support each other.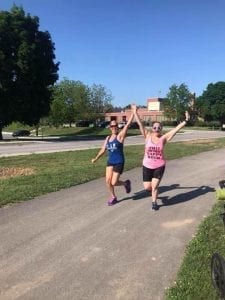 The SLAM community doesn't stop at the end of class but is always there for the hard times and the fun times. After a family tragedy my SLAMily turned up with food, hugs, shoulders to cry on, childcare and love.
As my time in Kansas was drawing to a close I realised I didn't want my SLAM time to end. Everyone needs their own SLAMily and I was encouraged and supported by Meghan Argo, Stroller Strong Moms Leavenworth Owner, to train for my Group Fitness Certification, which I did! I was so honoured to teach my first few classes there, a dream come true.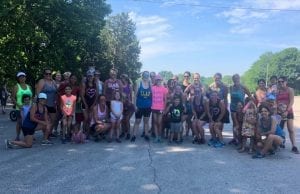 I am so unbelievably excited to bring SLAM back home to Bournemouth and build my own tribe of crazy, fun- loving, dedicated, strong mamas.
We are so excited for our second International SLAM to get up and running! Follow Stroller Strong Moms Bournemouth on Facebook and Instagram! Check out all the details about classes and events coming soon to Bournemouth on the webpage!