Meet Chelsea, November SLAMer of the month. From her first time at SLAM, Chelsea was all in. She comes to all the field trips and Moms Night Outs, buys all the merch, and brings her sweetness and smile (and her adorable little ones) to as many classes as she can each week. She is such a wonderful part of our SLAMily, not to mention she loves donuts just as much as we do… 
Hi SLAM Family! My name is Chelsea Sloneker, and our family just moved from Tacoma, WA to Southern Pines, NC in mid July. My husband is an ENT at Womack Army Hospital, and we have 3 small kiddos; Davis 5, Hallie 3, and Brooks 1. They are a joy and so much fun!! I would say my fitness journey has had a lot of ups & downs & turns along the way….but just now I feel like I've hit a major sweet spot. (Thank you SLAM!!) I grew up playing sports, my husband and I love hiking/backpacking & camping, and there was usually a decent amount of running sprinkled in just to stay active (with the exception of my freshman year of college where I stopped all physical activity & I quickly became familiar with the term "Freshman 15"…or was it "Freshman 20". I lost track. Haha) Davis was 6 months old when we moved to WA, and thankfully a sweet new friend asked me to start running with her, which led to running a few half marathons during our stent in the PNW. But after she moved, we found an incredible gym that our whole family loved, which was a great outlet especially during those long rainy months. So when we moved to NC, I naturally started looking for a gym just like the one we had left, but I just didn't find one that clicked for the season of life we were in.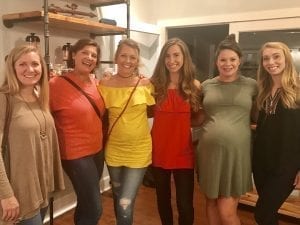 Fast forward to August, when it was time to send our "baby" off to school. It was such a fun morning filled with excitement…that I guess I never wanted it to end…because before I knew it I was taking the younger two to the grand opening of Duck Donuts.. Whether I was drowning my sorrows in sugar because Davis had just started kindergarten that morning or because I thought this would be a "fun treat for the kids"…one will never know. But, I believe everything happens for a reason, and I'm thankful that this trip to the donut shop ended with more than a box of sweet treats. As I was wrangling my kids in line, Hallie ran off to give a little girl a hug & then proceeded to sit down with these (complete stranger) kids & begin playing with them. As I made my way over to apologize, I began talking with their tall, super sweet mother wearing a SLAM tank top. We exchanged names & I did my absolute best to remember hers so I could find her on Facebook…because let's be honest, ain't nobody remembering Sloneker!. Once Brittany & I connected on Facebook, I kept seeing all her pics with these SLAM tanks, so I asked her what it was all about. She told me about it & that the Grand Opening was happening soon! I was so excited!
I attended the Southern Pines Grand Opening and quickly noticed a few things: 1. Everyone was so kind, that it made it a very welcoming & non-intimidating atmosphere. 2. This was going to be FUN! 3. These were real moms with all different ages of kids, and they weren't here to mess around. They were here to SWEAT & get a GOOD workout. 4. Hello! Look at their arms! Sign me up for whatever workout they are doing! 5. The kids are going to have a BLAST & I loved the idea of being able to exercise WITH them right there!!
 Even before that initial "please don't make me walk down the stairs" soreness wore off from that first workout, I couldn't wait to go back! And the rest is history! I don't think I've ever looked forward to a workout as much as I look forward to SLAM days. All of the moms in our tribe are incredible, and I'm so thankful for the friendships that have already developed though working out together and the Moms Night Out events. Brittany is an incredible leader & her workouts are no joke. She leads us with kindness & strength, and pushes us because she believes & knows that we are stronger than we think we are. And last (but certainly not least) the kids LOVE IT! Hallie calls it "the mommy workout park" & asks every day if we going. I even find her teaching Davis how to do burpees around the house! They are watching, mamas, and it's awesome!! 
Thank you so much for giving me this opportunity to be on here as the SLAMer of the Month. What an honor!! Even though I've only been part of SLAM for a few months, I am just so thankful for this program & that we get to partake in it during this season of life.