December Member of the month: Mackenzie Fleming of SLAM Wheaton
Words can't quite describe how much the Stroller Strong Moms Wheaton community loves this mama. Mackenzie started her SLAM journey with the amazing D.C. Area Stroller Strong Moms tribe. We're lucky enough to have had her for the past five months. Before she even unpacked her boxes, she was at SLAM. Ever since that first day, her love and commitment to SLAM has been glaringly evident. Mackenzie has barely ever missed a class. She shows up and works hard. When a fellow SLAMer is going through a rough time, she's the first to suggest a meal or gift be dropped off. She cheers on other moms and is never afraid to share ALL that motherhood is about…Constantly making all of us mamas feel seen, heard, and sane. Her dedication, determination and SLAM love is contagious and she absolutely deserves this SLAMer of the month title! 
To Stroller Strong Moms D.C.- thank you for loving on her and sending her our way with the SLAM love in her heart already. Mackenzie- thank YOU for being you. Thank you for sharing your nursing advice, motherhood stories and kind heart with all of us. 
Read about Mackenzie's story & SLAM journey in her own words:
Six years ago this month my husband was studying for law school finals, we found out we were expecting our first (surprise!), and we decided to uproot and move to DC without knowing a soul for a great job opportunity. Little did I know how isolating motherhood could become!
I didn't discover SLAM until we moved from Arlington to Vienna. This is ironic because I lived a 5 minute walk from the park for about 2 years, and walked my dog and stroller passed Lindsay Platky every single day (one does not forget that amazing hair or that crazy energy level!) without knowing what an amazing group I was missing out on! My second pregnancy had been so different. I was working again, taking care of a toddler and our first "baby," our shepherd mutt, became terminally ill. My husband noticed a change and that I had developed some of that good old anxiety and depression. I was lucky in that I felt like my normal self quickly after delivering. So I went on with my daily walks/jogs, trying to motivate myself and get into a "stay at home" routine. We were fine, we didn't know what we were missing. It wasn't until the summer after, that I challenged myself with a summer of spontaneity. In the beginning of June I summoned the courage to stop Emily (the biggest smile in the bunch) and ask just how in shape one needed to be for a class like this. I had always been a swimmer, so on land … I'm a fish out of water … and 100% NOT a runner. I cannot stress that part enough. Actively avoided, would be the one to be eaten by the alligator chasing them, roll over and let the stampede trample them NOT a runner. I was terrified to say the least. But, I was met with a massive grin and her quick story.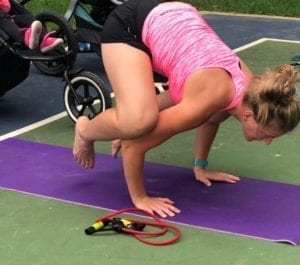 My first class with Megan was … painfully hard, enlightening, embarrassing, I mean I think I was sore for a solid week, but I had … fun. Everyone was smiling and happy and encouraging, if it wasn't so damn earnest it would've been off putting to my skeptical soul. I mean, I went back after all. I could look around and see this was a group of moms who loved their kids, got annoyed by their kids, fed organic, fed goldfish and cookies, supplied books, supplied screens, yelled, loved, but NEVER judged. I was in awe watching all these little kiddos run around and play together. I was amazed watching moms work hard and then have an actual conversation with another human being that also knew what it was like to poop with an audience. I could look around and see the fittest of fit and … me. And someone cheering me on, telling me I could do it, whatever my "it" happened to be at that time. There were modifications for every level. There was someone who remembered my name, my kids names. This was "the thing" that I had no idea I was missing.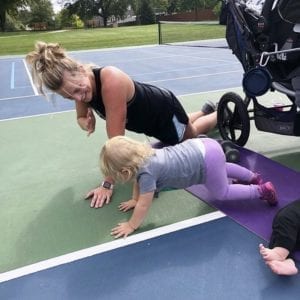 Relatively soon after just starting SLAM DC I remember my husband mentioning cutting out both SLAM and his gym at work to be replaced by home equipment or a gym membership. That's when it became clear to me that he didn't quite get it, it was a hard no from me. When we decided to move "home" to Illinois and began researching neighborhoods, driving distance to SLAM Wheaton made my "pro" list … that's when it became evident to him that he didn't quite get it until that moment. I had already reached out to Casie, and initiated what would become my first new friendship in my new hometown! Wheaton welcomed me with open arms, and I am so grateful I could continue my SLAM journey and become a part of this tight knit and amazing group of moms. You all mean the world to me, to my kids, and to my hubs.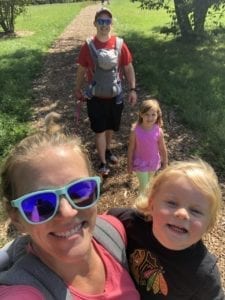 To my dearest SLAM,
You don't care when I show up late, when I have to leave early, when I was pregnant and had to pee every five seconds, when my baby needs to nurse, when my toddler screamed the entire class, when I hadn't told anyone yet and felt like puking during every rep, when I was larger than life and always the last one done, when I felt betrayed by my body. You cheered me on, you hugged me, you taught me patience and kindness toward myself and my body, you asked me if I needed a snack, you set my mat out and move my stuff while I nurse so I can jump right in, you are patient, you hold, watch and entertain my kids, you remember that it's "Anna" not "Elsa," you finished final reps with me and then high-five'd me like I had done the hardest of the work, you believe in me.
You have my heart, and my most heartfelt thanks.