November Member of the Month – Emily Lang
Our November member of the month is Emily Lang from Stroller Strong Moms – San Antonio. Emily has been a dedicated SLAMer since her first class. She shows up (early!) to class ready to work and gives every workout her 100 % effort no matter what. Emily came to SLAM a seasoned athlete prior to motherhood, but the gains she's made with strength and running since joining have been impressive. Emily's easy smile and sweet nature make the mamas around her feel comfortable. Everyone enjoys being around Emily and her two sweet boys and we're so glad to have her! Here's Emily's SLAM story: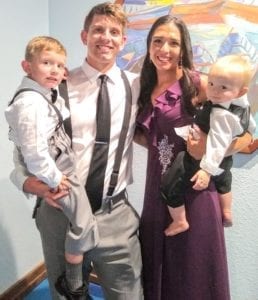 Hi! My name is Emily. I have two boys who — 4 years and 14 mos. I have been attending SLAM for around 9 months now. Here is my story. I had my second son early September of 2018 and in January 2019 I was ready to start working out. I tried CrossFit again but it wasn't working out for me or our family.  I looked into mom groups but none felt right, so I started exploring every library around us — and not around us! One day we drove 40 minutes to attend a library toddler class and ended up meeting Lindsey who told me all about SLAM. I will forever be grateful for her! Thanks again Lindsey!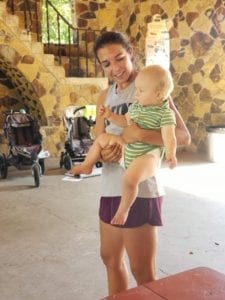 I have always been an athlete, a runner specifically. I have been running since I was 5 years old. My summers consisted of track meets and practices. My dad was my high school track coach so we were always around sports. SLAM kicks my butt every time.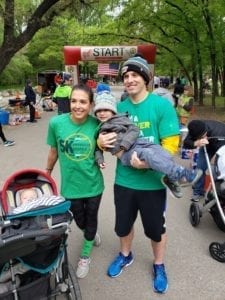 I attended my first class and was in awe, while out of breathe, of how strong and amazing all these moms were — pushing strollers, lifting weights, and crushing the workout. I knew I wanted to be like them so I signed up immediately after, bought a double jogging stroller and 9 months later, I can't imagine life without these amazing women who are my tribe. I've never had a tribe outside close family and it is awesome.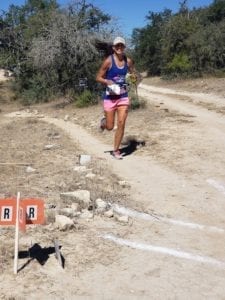 I am definitely stronger and my whole family is better because of it. I have never felt more strong and fit than I do now.  Even though I still dread running the half-mile loop at class while pushing the stroller, it is much easier. I recently completed the very challenging Ragnar Texas Trail relay race, and am training for my first half marathon. SLAM has given me the confidence to try new challenges and I can't wait to see what's next. Thank you Mandi, Danielle, and SLAM – San Antonio for supporting me, challenging me, and accepting us. I will always love y'all :).