Getting Rid of the "I can't" and Proving That "I can"
Meet Maria Parker-Harris: Stroller Strong Moms Bournemouth – March Member of the Month
I was never what you would describe as a 'gym bunny' or 'fitness fan'. I certainly would never have described myself as competitive. I tried many activities to lose weight, but nothing ever stuck. My weight yoyo'd and I accepted that I would always be a 'bigger' girl. The truth is that I was a quitter. If it hurt (and cardio does if you are new and unfit), I would make excuses and give up. 
This cycle continued, with the added health challenges of smoking, drinking too much and eating all of the wrong foods. I wasn't in a healthy place. My passion for fundraising and supporting local causes, encouraged me to take part in challenges like 5k runs. I would try and train, but work/life/excuses would get in the way and on the day it was more of a walk than a run. 'I just can't run', was my attitude. 
Eventually I found a challenge that looked 'possible', a 26.2 mile walking marathon, through the night in the heart of London. I received the training plan and something clicked. I really wanted to do the challenge properly, so threw myself into hiking and power walking. I was soon really enjoying it and the feeling of accomplishment from ticking of each milestone. On the night, the distractions of London's famous landmarks lit up in pink and the crowds supporting us, made the first half a breeze (ish), but come the second leg, the weather turned, the landmarks had become generic residential streets and the real fatigue set in.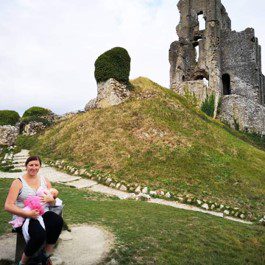 The sun came up and the end was nowhere in sight. I have never wanted to quit so much, in fact I cried at the prospect of either giving up and traveling home in shame, or having to push through the never ending final miles. An amazing walker clocked me and my sobbing and offered to stick with me. Her encouragement absolutely carried me over that finishing line and taught me that my grit is so much stronger that I gave myself credit for. 9 hours, many, many blisters and soggy clothes, but I had done it, I had finished the marathon and had truly earned the medal. 
From that first experience of turning the ever familiar 'I can't' into 'I can', I experimented with more types of exercise but again nothing stuck. Until I was given the devastating news that I wasn't ovulating and losing 10% of my body weight 'may' fix the hormone imbalance. This was one of the darkest points in my life. I was terrified of not being able to carry a child of my own, filled with shame and self loathing, I was at my lowest point. But this time, giving up was not an option! 
I looked at my diet with truthful eyes and it was clear that eating out and fatty food had to go. Instead measured portions of complex carbs, lean protein and a more balanced approach was required. Then I had to accept the inevitable, my fitness levels were holding me back. There was no avoiding this conclusion and the only way to change was to adopt exercise.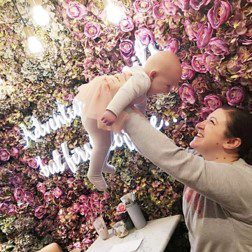 I joined the Aspire Channel Swim, where you have 12 weeks to swim 22 miles; a challenge I absolutely embraced! What surprised me was the mental health space it allowed, to process all of the negative feelings associated with fertility treatment. My story was chosen by Swim England and Aspire Swim to inspire others to love swimming. Lily and I featured on BBC South Today, BBC Solent, BBC Dorset, BBC Sport, Wave 105 and soon the National Swimming Exhibition. It felt really good to raise the conversation of long-term infertility and how exercise can help with mental wellbeing. 
With a desire to focus on the positive, rather than the profound sadness and anger that comes with long-term infertility, I entered a pageant – Mrs Enchanting World. In modern pageants, you are required to champion a cause (platform) of your choice and I chose the silence surrounding long-term infertility. It was only when I reached the point that I couldn't cope on my own any longer and shared our struggle on social media,that I realised how many others were suffering in silence.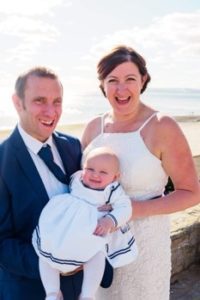 Fast forward 6-months, not only had I lost the weight, but I had been blessed with a healthy and progressing pregnancy. I competed in the pageant 24-weeks pregnant, with a blossoming bump and went on to win. It is unheard of for an obviously pregnant woman to win a pageant and I was so proud of the 113 appearances and fundraising that I had completed along the journey. 
Lily arrived safely on the 3rd July and suddenly the old insecurities snuck back in. I was reluctant to leave the house in case Lily cried and people reacted negatively. In the past, I would have given up and gone for the easy option, but it was different this time. Lily needed me to be strong for her. I spent the first few weeks taking Lily to baby classes and days out, just the two of us, but couldn't shake the feeling of loneliness. 
Like a bolt of fate, an advert for trial S.L.A.M classes in Bournemouth appeared on my Facebook feed. I looked at the pictures of fit, strong mums and thought 'this will never be me', but wanting to support a new local business, I trundled along in my pageant hoodie and gave it a go. I was slow, unfit and unfamiliar with my new body. Every time it hurt, I tried to give up, but Emma saw me and was determined I could do it. The other mums were welcoming and so encouraging. I found myself going to the Grand Opening event and having another go. Again I was surprised at how far I could push, but 'I can't' would always creep back in. 
I cannot tell you exactly what kept me coming back in those early weeks, but I can tell you that my new found fitness and strength keeps me going now. 'I can't' still looms, but it's quieter now, because I know I can, I have proven it time and time again. I loved the camaraderie of S.L.A.M so much that I tell all of my mum friends about the classes and am so excited when they join the slamily. It takes two buses and 90 minutes each way to get to S.L.A.M, but I do it, because I can and I am worth it.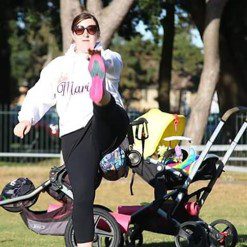 We are working through the Find your Strong fitness challenge and I have discovered I am actually incredibly competitive. Competitive with myself to be the best I can be and achieve my goals. I am completing my first post-partum Aspire Channel Swim and a working through the Couch 2 5k programme and actually enjoying it. I embrace every weekly challenge that Emma sets us and reap the benefits. How far can I go? I don't know, but with the support of Emma, S.L.A.M and my slamily, I can't wait to find out!