March for Maternal Mental Health
This year will be our third annual March for Maternal Mental Health & SLAM's Maternal Mental Health Week.
We will be sharing information and resources while our members share their most vulnerable moments. Our goal is to spread awareness, let struggling mothers know that they aren't alone, and to remind everyone that mamas matter. We want to lift stigma and shame associated with Maternal Mental Illness.
For the march: moms, spouses, friends, and children from all over the US & Europe both within the SLAM community and outside of it, take on the emotional and mental weight of Maternal Mental Illness by literally putting on a physical weight. Marchers wear backpacks of various weights or babies in carriers, and ruck by themselves, with their families, or with their SLAMilies.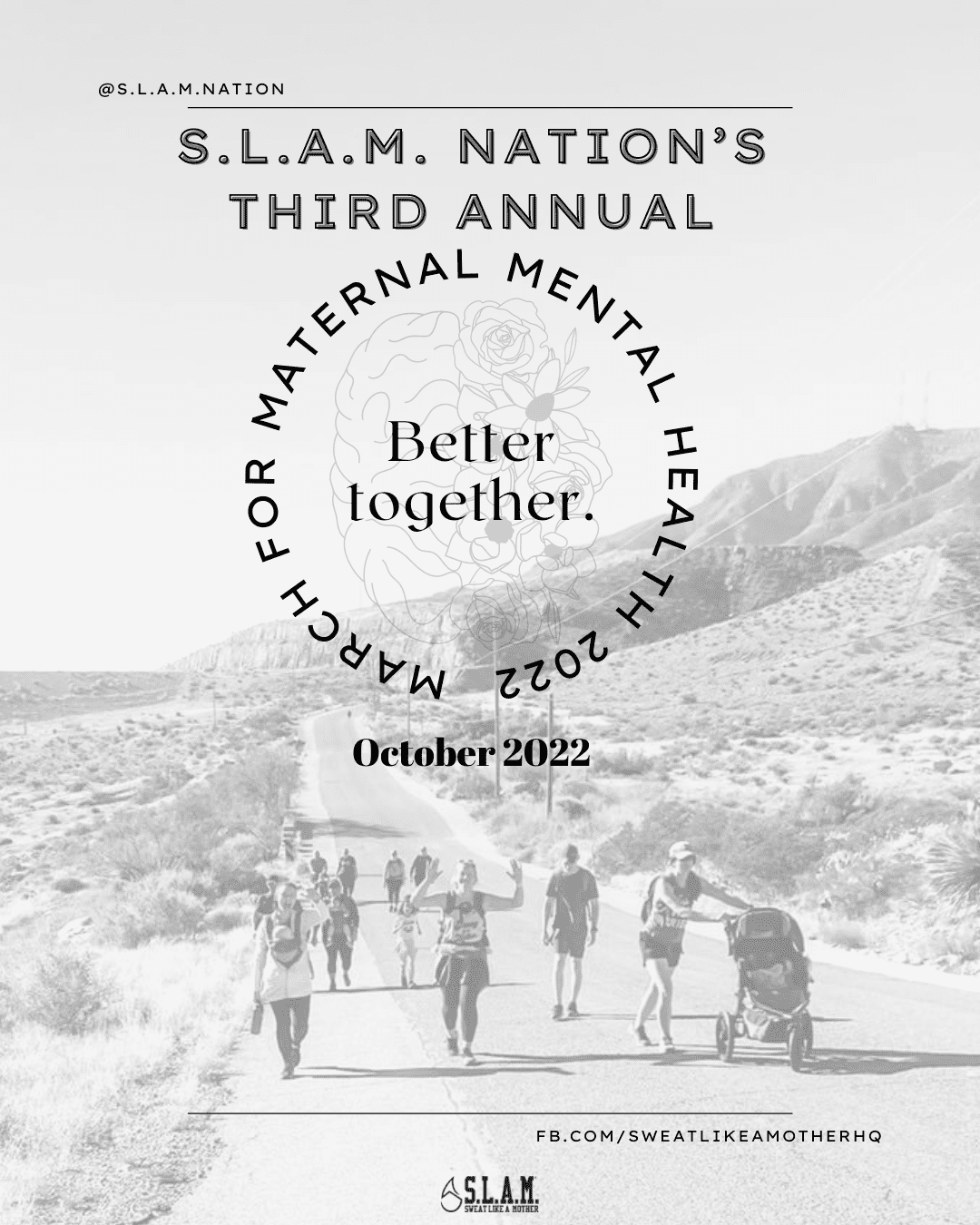 Between October 1st through the 10th, many affiliates will be joining together for the physical march to carry the weight that our struggling sisters do on a daily basis. We will march together, work towards spreading awareness, share our stories, and raise money for maternal mental health organizations. You may be marching with your SLAM family, hosting your own march, or taking this challenge on solo. Everyone is welcome and encouraged to participate.
At the same time we will begin our SLAM Maternal Mental Health Week on S.L.A.M. Nation's social media page. We will be sharing information, resources, organizations, and personal stories. Follow along as we work to spread awareness and help our fellow families.
This is something that impacts almost everyone in our society in one way or another, and it is especially important to us as an organization built to uplift moms everywhere. We look forward to marching with you this year.
If you have a story that you'd like to share about your journey with Maternal Mental Health and would like it to be shared to help spread awareness, please email it to socialSLAMmedia@gmail.com with the subject line "MMH story". We encourage you to include a picture. Thank you for your honesty and bravery.
​
This year we have chosen to raise funds to donate to one of our favorite Maternal Mental Health organizations, The Blue Dot Project. To do so, we have made a sticker in honor of this year's MMH March for you all to purchase. With each purchase, 100% of the proceeds will go to The Blue Dot Project. There are multiple donation amount options below, any amount that you're able to give is amazing! If you'd like to donate straight to the organization yourself, checkout their website at https://www.thebluedotproject.org/
About The Blue Dot Foundation:
Their mission is to raise awareness of maternal mental health disorders and combat the stigma and shame.
Thank you for supporting this important mission!
There's only one way to sweat… like a mother.