It's a SLAM Spot Threepeat!
S.L.A.M.er of the Month – February
Hi, I'm Joanna McAlpin. I would first like to say how incredibly honored and humbled I am to be acknowledged from within such a strong and amazing group of women. My Stroller Strong Moms (SSM) story starts off like so many military wives'. My husband and I had just moved to Fort Benning, Georgia and soon found out we were expecting our first son, Philip (now 4). I worked from home, making it difficult to meet people and my husband worked long hours, so I was alone most of the time. To get involved and connected with my new community I started an online search of local organizations and stumbled across Stroller Strong Moms of Columbus, GA. I was early into my pregnancy and did not think I would qualify, since I wasn't technically a mom yet, but I continued to follow their Facebook page. I was drawn to the encouragement and motivation by the leaders and members of the group. After giving birth to Philip I started to show signs of Post-Partum Depression. I was frustrated with not only my physical ability but also my mental state of mind.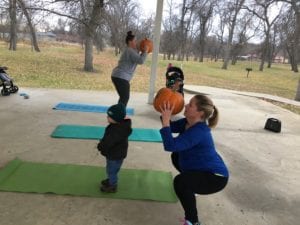 It was time to step outside my comfort zone and attend my first SSM class. I remember everything about that class; the instructor was Laura, the theme was Dr. Seuss, down to the mental motivation I repeated to myself when we had to run from the gym to the stop sign down the street "focus, slow your breathing, just a couple more steps." It wasn't a far run compared to the long-distance races I previously trained for or the rigorous drills I completed in field hockey, but at the time it might as well have been a mile away. I was extremely out of shape. I left the first class barely able to walk back to the car and sitting down was more of a long, painful chore. But I was now motivated more than ever to get back in shape.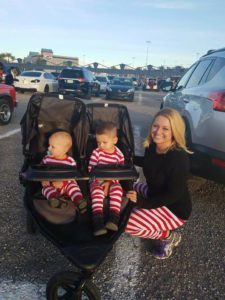 After a few months I started feeling both mentally and physically strong again, every workout I was encouraged by my fellow slammers and as a team we broke through many plateaus along the way. I had found my tribe while getting in great shape! I was soon invited to bible studies, playgroups, birthday celebrations, and sadly what is part of the military lifestyle, going away parties. As most military families know, when you start to get comfortable in an area, that's when you receive orders. Not only was I leaving a group of wonderful friends, but we were going to Minot, North Dakota where the winters are long and harsh.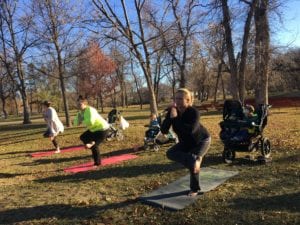 We left Columbus, Georgia when I was 7 months pregnant with my second son, Owen (now 2). I was terrified that I would fall into the same rut I did in Georgia and to an extent I did. Thankfully 2 years at our new base, I heard that someone was starting a Stroller Strong Moms in Minot! You cannot imagine my excitement! I was now a couple months into my pregnancy with my third son, Mason (born 7 Jan 2019), and knew I would be embraced at any stage. That is exactly what happened. I jumped right in and have stayed fit throughout my entire pregnancy while also connecting and networking with even more incredibly supportive and inspiring women. Additionally, I love that I am showing my sons the importance of self-care and health while also surrounding our family with a smart, positive, and supportive community of unbelievable women.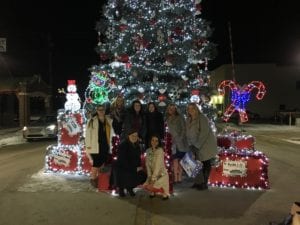 Thank you, Stroller Strong Moms for everything you continue to offer, and to the wonderful friends we have met along our journey. There's a reason this program is spreading throughout the United States and into other countries: women supporting women, families, and serving their communities. In the military, which at times can be a lonely lifestyle, you bring a sense a unity and I am again very grateful to be a part of something so special. And once again after getting comfortable and finding my tribe we have received orders to El Paso, Texas. I will miss my Minot community but know the Stroller Strong Moms community in Texas will make this transition easier. I look forward to slamming with my third SSM family this summer and hopefully at each station for the remainder of our military career!