Ready for the S.L.A.M. World Tour?
Hey Rockstars! S.L.A.M. Nation is going 'On Tour' to celebrate our 12 year SLAMiversary!
During the entire month of September, we will be touring the WORLD with Zoom workouts led by a different SLAMBoss in each of the EIGHT timezones we represent!
We will kick off our tour with a Zoom workout from our Founder, Alexa Smith, on September 2nd and then we will move on to the 8 timezone workouts throughout the world!
The workouts will start Saturday, September 2nd and continue every Tuesday and Saturday for the entire month!  
Rock On! How Does it Work?
Each time zone will lead a 30 minute SLAM Express workout on the dates and times listed below. All time are listed as Eastern Standard Time. If you are unable to make the zoom workout time, not to worry. Each workout will be recorded and sent to you.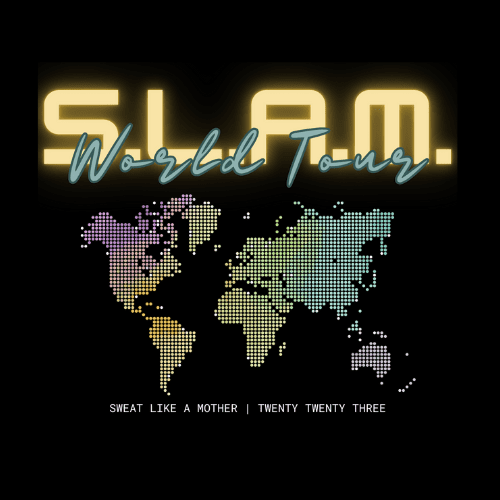 Get Your Tickets to the Tour!
You can purchase tickets separately to any of the 9 stops on the tour for $5 each. Feel free to use the 'add to cart' feature to buy more than one at a time. You can buy all nine as a package for $30 and be eligible to receive our exclusive S.L.A.M. World Tour bracelet if you complete all of the workouts! Buy the $30 bundle by August 31st and you will receive an exclusive SLAM World Tour Rocker Hand Sticker!
Tour tanks, tees and sweatshirts are available on our shop for a limited time for presale! You have until August 31st to get your swag! If you are part of an affiliate, ask your SLAMboss for a discount code. Have a look at the collection here.