December SLAMer of the Month
I am excited to "introduce" you all to Heather, our SLAMer of the Month from Cameron-Sanford! Her passion for helping others, for pushing herself, and for being the best darn example for her kids and for us to look to for positive support is so encouraging! Her wacky ways keep us motivated and laughing and we couldn't be more proud to call her friend and SLAM sister! Read up on her SLAM journey below!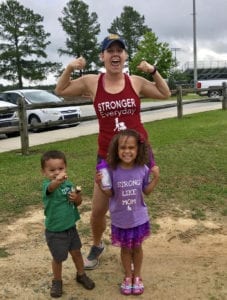 Yo! My name was Mommy, wife, and Sergeant before I found SLAM – now it is Heather. Doesn't that sound nice? To be called by your first name? That sounds like friendship to me. I didn't know I needed SLAM until I stumbled upon a grand opening announcement for Cam/San SLAM. I was hungry for and needed more out of my fitness routine, SAHM insanity, and interactions with other humans. Over a year ago I won a 30 day pass at that same grand opening. You may have heard me shout "Hooray", even at the AK locations. 🤣 I made a commitment that day to max it out – maybe it was the cheap-o inside me, or maybe it was the burning desire to make a change.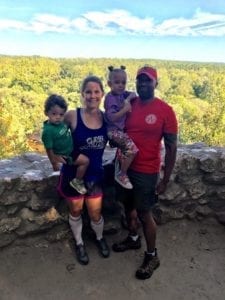 For 30 days I worked my butt off but I didn't die. Instead, I started building REAL friendships. (🙀) See, I had just left an 8 year career in the Army where I was confident in packing life saving parachutes, making everyone laugh, even mentoring Soldiers. However, I had no idea how to be a girlfriend – a sister. Since joining I have lost inches, gained strength, and felt like the little kid who finally climbed that rock pile-on top of the world! I have not given up! It started because my daughter was watching, then she became so busy trying to mimic the exercises herself. They really do look up to us for everything. 💜 Then, it was because all these incredible women where along side of me.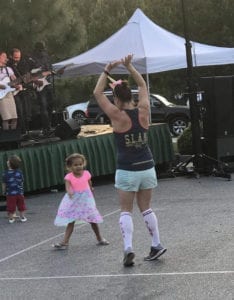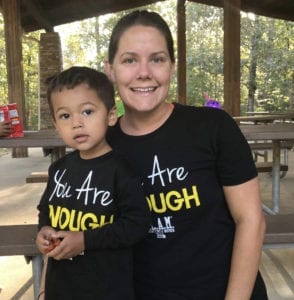 Now I see new Mamas come and I want to show them just how powerful they are! I may not be the best at doing burpees, but I'll sure encourage you to do just one more! I may have zero coordination but I will stumble to hold you up! I look forward to running my first half marathon in March. Something that was just a dream before SLAM. My time does not matter because I know the journey getting there will be filled with laughter, love, hard work and hopefully a margarita or two. 🤣 You will never regret a day that you came to Sweat Like A Mother! 💜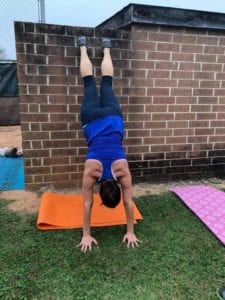 Heather, we are so grateful that you gave SLAM a chance and that you found your SLAMily here at CamSan! SLAM Strong!