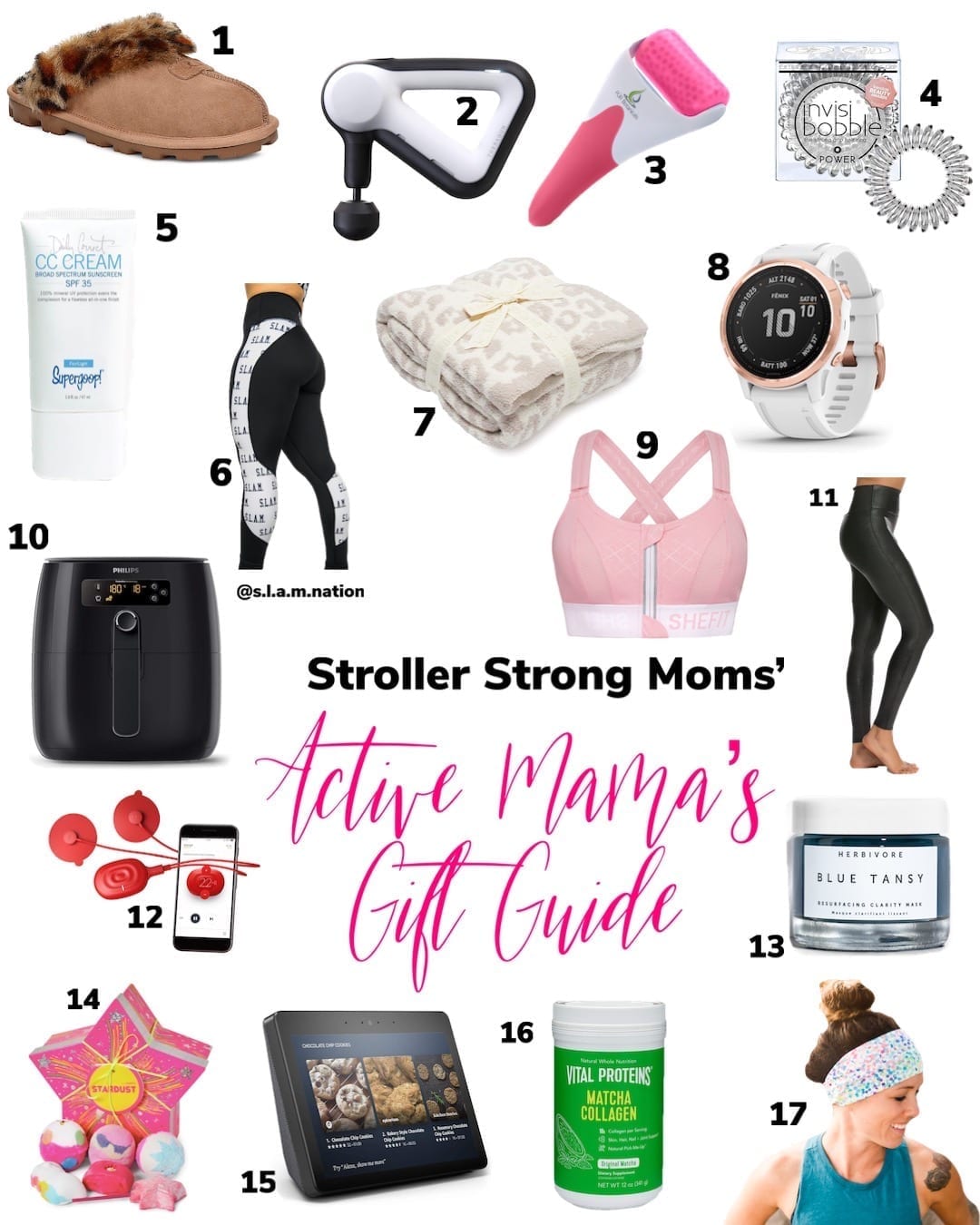 We're not here for any of that "New Year, New You" garbage. We don't want a new you, you're already amazing. But if you're working on that "New Year, New Goals" grind and need ideas for gifts to keep up with you OR need gifts for a woman in your life who is all about that #SweatLikeAMother life, this list is for you. We put together a list of various gifts that any Athlete (who happens to also be a mom) would be happy to get this year. The gifts range from athletic wear, to supplements, to food appliances for the healthy foodie, to recovery tools, to treat yo self products.
Before we get into this list, let's talk about a couple of ideas that can't be purchased on Amazon.
Buying for a busy mom? Consider a housecleaning gift certificate!
Buying for a mom who wants to learn new recipes? Try Blue Apron or Hello Fresh!
Buying for a mom who needs some time to relax? Find a great local massage therapist and/or esthetician for a facial!
One more tip: If you know kids who are too young to pick out and buy gifts for their mamas on their own, offer to help the kids make something for their mom or even pick out and buy her a gift if you're in the position to do so. We promise that will absolutely make her Christmas!
Now we're ready to talk the gifts pictured above! Let's break them down one by one.
*Some items have multiple links included so that you can check both the brand's website and Amazon to compare prices and even utilize Affirm type features on a few of them
1. Coquette Leopard Slippers – Ugg $120
https://www.ugg.com/womens-slippers/coquette-leopard/1106251.html
These bad boys are exactly what your feet deserve after a long day of running around, both literally and figuratively. These slippers are what we imagine walking on actual clouds must feel like, and are great for indoor OR outdoor relaxing. The hint of leopard print is the perfect amount of flair!
2. liv Percussive Massager Muscle Stimulator – TheraGun $249
https://www.theragun.com/us/en-us/liv-us.html *has Affirm
https://www.amazon.com/dp/B07QJDWVWT/ref=cm_sw_em_r_mt_dp_U_onZ1Db8M4ZZ44
Five words: Deep. Tissue. Massage. At. Home. Need we say more? Probably not, but we will anyways. This is a great tool for muscles that need some serious recovery. If you are shopping for someone who exercised often or runs marathons, this is the perfect addition to their life.
3. Ice Roller – $13
https://www.amazon.com/dp/B07KHJVWF5/ref=cm_sw_em_r_mt_dp_U_Dt41Db8X80B7T
We didn't list a brand name for this one because there are SO many available on Amazon and they all do virtually the same thing. This one had a great rating and we have personal experience with it, so here ya go. Anyways, this is an ice roller and everyone needs one. What is an ice roller you may ask? It's a facial toll that either has metal or a gel roller that you keep in the freezer, and then roll onto your face as needed. Ice rollers are the perfect post workout and have a ton of benefits. They temporarily calm inflammation, help reduce swelling/puffiness, soothes redness, shrink capillaries, and overall soothes. Long term, you may notice your skin feeling more firm, less red, and have reduced breakouts because inflammation, the main thing the ice rollers work to fix, is one of the biggest contributors to premature again, rosacea, psoriasis, and acne. And all for $13!
4. POWER Traceless Hair Ties – Invisibobble $8
https://www.amazon.com/dp/B01CD75HFU/ref=cm_sw_em_r_mt_dp_U_jYY1Db5ECT2JZ
These may look like old school phone cords, but we promise you that they're a game changer! If you workout a lot, chances are that you have your hair up a lot. All those pony tails and pineapple-buns are damaging to your fragile hair, so treat your hair to something that will keep it up and out of your way WITHOUT the damage!
5. Daily Correct CC Cream – Supergoop! $36
https://supergoop.com/products/daily-correct-cc-cream
Imagine, you're running late. Again (we can't be the only one's always somehow running late, right?). You want to throw something on your face before you head out the door. You're goal is to look fresh and while also NEEDING to throw some sunscreen on your skin (because you should be wearing it EVERY SINGLE DAY, do you hear us?!). This is the answer to your prayers. This CC cream gives you the perfect amount of subtle cover, while also protecting your skin with a hydrating mineral based formula. This is the key to your morning skincare routine being as quick as you need it to be.
6. High-Waisted Workout Leggings – Feed Me Fight Me $54.95
https://feedmefightme.com/products/s-l-a-m-on-repeat-high-waisted-leggings-1?_pos=2&_sid=524338277&_ss=r
Workout leggings are for working out AND everyday life, and if anyone tells you otherwise, cut them out. You don't need that kind of negativity in your life. We're partial to their SLAM pants line ourselves, but all their leggings are so cute, pass the squat test, and have the perfect amount of compression! High-waisted seems to be the favorite among most women, but you really can't go wrong with any style.
7. Cozychic Barefoot In the Wild Throw – Barefoot Dreams $180
https://www.barefootdreams.com/cozychic-barefoot-in-the-wild-throw-cream-stone.html
https://www.amazon.com/dp/B01LY6JN8K/ref=cm_sw_em_r_mt_dp_U_9IZ1DbYFVGQWN
"You can't put a price on perfection." Wrong. Because they did and it's apparently $180. We know, why would you spend so much on a blanket? Oh, we don't know, maybe it's because it feels like you're cuddling with a cloud and you deserve to TREAT YO SELF. This blanket notoriously sells out, and frankly, we're not surprised.
8. Fenix 6s Pro – Garmin $690
https://buy.garmin.com/en-US/US/p/641530/pn/010-02159-10
https://www.amazon.com/dp/B07W3Q2WX7/ref=cm_sw_em_r_mt_dp_U_KHY1DbR8Q87PV
Who says your smart watch can't be gorgeous AND beyond functional for the our #MotherRunners? While this is the most expensive item on our list, it is also by the far the most advanced! It measures your heart-rate, energy levels, elevation gain, respiration, and tracks your sleep. It has GPS capabilities from the future, pairs to your smart watch, plays music, and has safety and tracking features. Is there anything this CAN'T do?!
9. Ultimate Sports Bra – SheFit $65
https://shefit.com/products/ultimate-sports-bra-sandstorm
Wanna know something crazy about breastfeeding? Your breasts change size a decent amount throughout the journey. Pregnancy, when your milk comes in, when your milk levels out, when you've been breastfeeding for a long time, when your milk dries up… those are all different boobs and yet they all need support. The SheFit bra is easy to nurse in and while also being fully customizable for individualized support based on your needs that month/week/day. Not only that, but it's made to provide maximum support while running, working out, or just lounging around. It's the sports bra that you didn't know you needed.
10. TurboStar Airfryer – Phillips $199
https://www.amazon.com/dp/B06Y39KPZ4/ref=cm_sw_em_r_mt_dp_U_-231DbWXMAFRM
With an impressive 4.5 out of 5 stars on Amazon, this air fryer is sure to impress! We know, your kitchen probably has enough gadgets as is, but this is worth making some room. An air fryer gives you the taste and texture of your favorite fried foods WITHOUT all the oil! This means a meal that your family will love, but is still a much healthier alternative.
(Looking for an air fryer that serves multiple purposes so you have less gadgets overall? We suggest checking out this air fryer + convection oven + toaster oven by Cusinart OR this air fryer + roaster + baker + dehydrator + grill by Ninja.)
11. Faux Leather Spanx – SPANX $98
https://www.spanx.com/clothing/leggings/faux-leather-leggings
https://www.amazon.com/dp/B00K1YH7IS/ref=cm_sw_em_r_mt_dp_U_YyY1Db64EFB32
If you want the yoga pants feel with a totally "on trend" look PLUS compression (a moms best friend), these are for you. These beauties sell out regularly, so get them now!
12. PowerDot 2.0 – PowderDot – $199
https://www.powerdot.com/pages/buy-now *has Affirm
https://www.amazon.com/dp/B07GPYMP98/ref=cm_sw_em_r_mt_dp_U_ywY1DbMP7CRR4
We're athletes and we make our bodies WORK for us. That also means that we're often sore… but we ain't got time for dat. That's where this little beauty comes in! The PowerDot is a FDA-cleared smart muscle simulator that's made to help you recover faster using electrical muscle simulation. It's compact and includes an intuitive mobile app to make sure you're getting the best use out of it possible.
13. Blue Tansy Resurfacing Clarity Mask – Herbivore $48
https://www.herbivorebotanicals.com/products/blue-tansy-mask
After a long week of working out, your skin may need a little TLC. If you're not able to wash that sweat off your skin asap after class, you may find your skin looking dull, dealing with acne acne, or struggling with buildup. Don't worry, we have the answer! This mask is created to be used 1-3Xs/week and is clarifying, which gives you that that "glow". The mask has White Willow Bark for a natural BHA (chemical exfoliant), Fruit Enzymes for a natural AHA (chemical exfoliant), and Blue Tansy Oil for reducing redness and soothing.
Please note that we do not recommend buying skincare products like this from Amazon as some of them are fakes and therefore may be dangerous. Additionally, know that the word "chemical" here doesn't negate that is in fact a natural chemical still. Lastly, if you use St Ives Apricot Scrub at any point we BEG you to stop because we love you and love your skin (just google their lawsuits and what non-St Ives professionals say about their products if you need any convincing)!
14. Bath Gift Sets – Lush ~$50
https://www.lushusa.com/gifts/gift-sets/stardust/9999909071.html
Be gone the cheap (and frankly irritating to the skin) bath sets from the grocery store. Trust us, save your money and avoid those. If you want to spoil yourself or someone you love, splurge on the real deal. We love these Lush gift sets (many options are available) because the ingredient are much cleaner, the colors are more vibrant, the smells are much more pleasing, and the quality is just overall astronomically better. Give, either to yourself or to someone else, the gift of relaxation this Holiday season.
15. Echo Show 2nd Gen – Amazon $230
https://www.amazon.com/dp/B077SXWSRP/ref=cm_sw_em_r_mt_dp_U_BK41DbT2FWSQ8
The future is here and it's voice activated, automated, and FEMALE. You don't have time to remember everything, we understand that! The Echo is here for you. You can tell your echo "Alexa, add eggs and laundry detergent" and those two items will be added separately to an itemized shopping list in your Amazon Alexa app. You can tell her "Alexa, I really want to listen to something relaxing" OR "Alexa, I need to listen to music to get me pumped up" and she will curate a playlist for you. Need a recipe? She has your back. Want to video call a family member? She can do that, too. Lose your phone? She'll call it for you! Your new BFF is a robot and that's rad.
16. Matcha Collagen – Vital Proteins $44
https://www.amazon.com/dp/B0789VQR81/ref=cm_sw_em_r_mt_dp_U_F741DbRY7EWN8
So you're looking for a supplement that provides energy, gives you extra protein, helps with your joints, and gives your hair/skin/nails some extra umph? It's not too good to be true, it's just GOOD. Vital Proteins Matcha Collagen is easy to use, simply dissolve it in a cup of water, and is packed full of helpful nutrients to keep your busy body going and glowing.
17. Headband – Believe Bands $8
https://www.etsy.com/shop/TheBelieveStudio
Our personal pet peeve? Having to get the hair out of your eyes every 10 seconds while working out. No one wants to have to keep fussing with their hair while running or look like a scarecrow thanks to all those postpartum baby hairs. Keep your hair in check in style with Believe Bands! These headbands are handmade by one of our very own SLAM ladies and come in a ton of different prints.
Do you have something else on your Wish List? Let us know in the comments below to help give others even more ideas!
Happy shopping!